Is a coast to coast celebration of science. During the week of September 21st – 27th, over 100 institutions from over 50 Canadian cities will be showcasing the importance of science.
In celebration…
Visit the Burnaby Campus Library between 9am – 7pm and see a 3D printer live in action. It's amazing watching a roll of plastic material fuse into an object with actual moving parts.
We also have on display …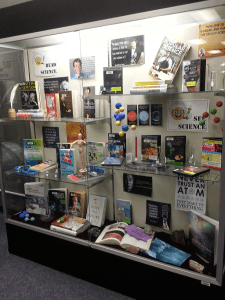 Some of our favourite science books and DVDs from our collection.
It wouldn't be a celebration without a contest …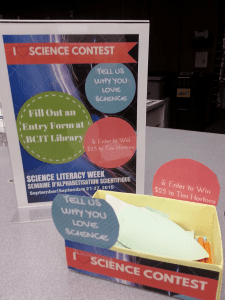 So stop by the BCIT Library between now and September 30th for a chance to win a $25 gift certificate from Tim Hortons. All you have to do is pick up a form from the Service or Research Help Desk and tell us "What you love about science". We'll be contacting the winner by email so make sure you put your name and email address on the back of the form. Contest closes September 30th.
To raise new questions, new possibilities, to regard old problems from a new angle, requires creative imagination and marks real advance in science.
– Albert Einstein