What would your response be to the possibility of doubling the space currently available in the ehPod? Your feedback is important to us.
Surveys are available at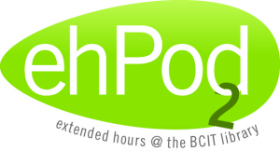 the Service Desk at the Burnaby Campus Library and in the ehPod. Those who complete the survey will be eligible to be included in a random draw for a Tim Horton's gift card. Survey closes September 26, 2014.