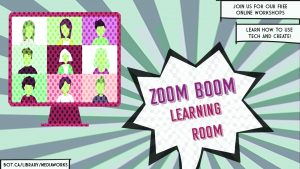 Join MediaWorks for their inaugural Zoom Boom the Learning Room workshops. This online series will introduce you to all the exciting technology available through MediaWorks in a fun and informal environment.
First Workshop
The first virtual session will explore how to prepare designs for laser cutting and engraving onto wood using the BCIT Library's laser cutter at MediaWorks. There is also the option to cut paper and card on our Cricut machine.
This session is perfect for those that are new or experienced with laser cutting. We will cover how to create art work via two different methods, drawing by hand and using vector software such as the free open source software Inkscape, it is recommended that you download and install this before attending the workshop.
This workshop is on 2nd December 12.30-1.30 and is open to students, faculty and staff and is offered FREE of charge. Class size limited to 20 participants. For more info and Zoom link contact amiedzwiecki@bcit.ca
Future Workshops
Other workshops will include:
– 3D printing basics
– Video editing
– Creating mobile device content
and many more topics….
Keep and eye out for library social media posts, or check out our website: