Come and join us at the Burnaby Campus Library September 18th – 22nd for Science Literacy Week, a celebration of science in Canada.
Events
Wikipedia edit-a-thon
In partnership with BCCampus, UBC, SFU and Kwantlen, BCIT will be holding a Wikipedia Edit-A-Thon. The theme is Canada 150, and we plan to focus on science and scientists from BC.
Kick off event: Monday, September 18 | 1:00pm – 2:00pm | main floor of Library.
Light refreshments provided.
Never edited a Wikipedia entry before? We'll be there for support. Check out this handout for more info and how to's.
The Edit-A-Thon will continue through the end of the week, make your edits wherever you are, or join us in the library around 1:00pm through the week.
PRIZE!!!  Optional contest entry for BCIT Participants – once you've made an edit you can enter by sending an email with the subject line Wikipedia Edit-A-Thon to ebrarian@bcit.ca – include your Wikipedia username as the contents of the note. A random draw will be made at the end of the week for a $25 Tim Hortons gift card. The winner will be contacted via Wikipedia.
Smart Microgrid Card Game
Tuesday, September 19 | 11:30 – 12:30 | main floor of Library
Alan Stewart, BCIT's Smart Microgrid Applied Research Team (SMART) Research Analyst, is a gamer.  Alan developed BCIT's first card game, that is fast, simple, easy to teach, and also informative, which features all the various parts of BCIT's SMART Microgrid research.  This game helps people not only understand but get excited about the technology – come and play!
BCIT Student Innovation Challenge
Wednesday, September 20 | 3:15 – 3:30pm | main floor of Library
Got a bright idea? Joe Boyd and Sandra Jette join us from the Applied Research Liaison Office to talk about the challenge, how to enter and available prizes.
Meet the Tutors
Wednesday, September 20 | 2:30 – 4:30pm| Learning Commons, main floor of Library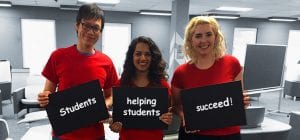 Join us to meet this year's group of writing and peer tutors over coffee and a bite to eat.
Learn how tutoring can help you succeed at BCIT.
Free peer tutoring and writing support 7 days/week.

IEEE Xplore Digital Library
Wednesday, September 20 | 3:30 – 4:30pm | main floor of Library
Attention Engineering students and faculty!
Michael Shapiro from IEEE joins us again this year to demo advanced use of IEE Explore Digital Library.
The Presentation will show the importance of using professional search strategies (and please don't think that Google is all you need), the value of professional organizations, IEEE Student Branches, and using IEEE to further career goals via networking and on-going technical education. Pizza will be provided.
Soundwalk
Friday, September 21 | 2:00 – 2:45 pm | meet in the foyer of the Library on the main floor. Tour departs at 2:05
A soundwalk is active engagement with the Soundscape. The main purpose is listening to our ecological context through which we move. Join Maureen Connelly from the Centre for Architectural Geology for this guided tour around the Burnaby Campus.
Footwear: prepare for wet walking surfaces.
Cell phones: off, not even on vibration.
20 participants maximum – Register through the Loop or in the Library
Demo a Day
Monday – Friday | 12 noon – 2pm | main floor of Library
Curious about the new technology available in the Library?
Each day we'll be featuring a new technology. Come out and see a 3D printer in action, test out the Hololens or Vive or see what the Raspberry Pi and Arduino kits are all about.
Contests
Spelements
Try your hand at creating a message using the chemical elements. Take a photo and tag us @bcitlib for a chance to WIN a $25 Tim Hortons gift card.
Displays
Canadians in Science (Glass display case on main floor)
Mechanical Engineering student projects
Got a bright idea? Learn how to enter the BCIT Student Innovation Challenge for a chance at a grand prize of $5,000!