In addition to directly reducing energy and materials use, the Factor Four initiative is looking to make holistic changes to create a sense of place and pride for our staff and students. The Restoration initiatives are a complement to the work in areas of energy and materials conservation.
By capitalizing on quick-win strategies, we plan to make changes that psychologically prepare students and faculty for sustainable change. These quick-win projects will draw on the skill and knowledge of the faculty, staff and students in the SOCE, which offers a wide range of programs including: Ecological Restoration, Joinery, Carpentry, Piping, Interior Design, Metal Fabrication and Architectural Science, to only name a few. Students involved in these projects will get experience with real world scenarios, and see the projects they are involved in take shape on their campus.
The strategic framework for outdoor Urban Restoration revolves around two axes and two themes:
Smith Street and Guichon Alley
Celebrating our Trades and industrial heritage and celebrating Guichon Creek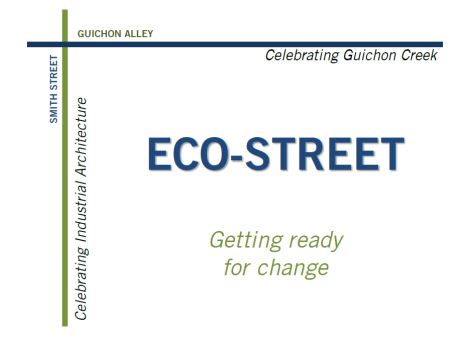 Examples of projects identified for immediate implementation include: creating a more pedestrian friendly environment on the street that connects the seven buildings (Smith Street), using art and signage to mark the location of an underground stream – with plans to daylight it in the long-term, using art, signage and vibrant colour schemes to tell the story of sustainability and SoCE's programs, and celebrating who we are and what we do by making our activities more visible.
History
The Eco-Street project evolved from one of the main categories of activity in the original 2009 Sustainability Charrette, originally called Street Repair. In 2012 Richard Register returned to the campus and presented a Lunch and Learn on the Ecocity Concept to faculty and staff. A presentation was given on the progress of the first activity undertaken by the Factor Four project, the energy and materials piece. In the workshop following the Lunch and Lean staff expressed a desire to pursue the Street Repair activity and form a working group as the next piece in the Factor Four project.
The staff that attended the workshop met five times to discuss the way they would like to forward the Street Repair project. This included brainstorming sessions, a poll on which ideas interested the group, touring the Olympic Village with a Vancouver City Senior planner, and touring Granville Island. This document encapsulates the outcome of those discussions, and incorporates a review of past documents that relate to our goals. The working group also changed the name to Eco-Streets feeling that better reflected the goals of the group.
As part of this process we have collaborated with the Centre for Architectural Ecology, and hope to continue our work in collaboration with other Centres at BCIT when our projects correspond with their expertise or priorities. The Interior Design program is also a major contributor.  Campus Development will also be an essential stakeholder in this process. We have met with the Director of Campus Development to get early feedback on the Eco-Street Project, and will continue to work closely with Campus Development as potential projects emerge.
Key stakeholders, including Program Heads and Chief Instructors, Director of Campus Planning, Director of Sustainable Development, Director of Facilities Management, Food Services, and Dean of the School of Construction and the Environment will continue to be involved as this group evolves, and their approval of the projects is a necessary component in our plans. We will be involving these stakeholders as our project plan is created.
For more information, check out our foundation document.
See more stories on Urban Restoration.
See case studies on Urban Restoration.