In addition to directly reducing energy and materials use, the Factor Four initiative is looking to make holistic changes to someday deliver it's educational programs in an urban environment that has been ecologically restored. The Restoration initiatives are a complement to the work in areas of energy and materials conservation.
The strategic framework for Ecological Restoration in the Factor Four area revolves around the following pillars:
Water

Demand-side management in buildings and landscaping (including reducing use of bottled water)
Rainwater harvesting to meet urban needs (post demand-side management)
Aquifer replenishment and run-off water control and cleaning
Daylighting of Guichon creek

Soils
Flora

Native and or Vancouver-climate-tolerant non-invasive species landscaping plan
Architectural ecology including a green roof and green wall implementation plan

Fauna
More about the daylighting of Guichon Creek – An exceptional Urban Creek:
The BCIT Rivers Institute is working with Campus Development to identify an appropriate strategy for daylighting the central portion of Guichon Creek on BCIT's Burnaby Campus.
Guichon Creek transects the east side of BCIT's Burnaby Campus and is a fish bearing stream at its south end. Near the mid-point on campus, Guichon Creek spills into a large concrete culvert and travels underground through the north-east quadrant of the campus. Studies by the BCIT FWR Program faculty and students indicate that trout and salmon cannot navigate upstream through the underground section of the culvert, hence the upper reaches of Guichon Creek are currently inaccessible to trout and salmon migrating upstream from the Fraser River through the Brunette River, Burnaby Lake and through Still Creek, of which Guichon Creek is a tributary.  BCIT's Campus Development Plan identifies daylighting the entire length of Guichon Creek as an important objective that supports the Institute's sustainability goal to become ecologically restored and a functional aquatic ecosystem.
History
Incorporating sustainability into BCIT campuses can be traced from the work started over twenty-five years ago with the restoration of part of Guichon Creek that runs through the south-east portion of the Burnaby Campus. As a result of stream channelization and vegetation clearing in the 1960s, Guichon Creek had become been severely degraded with a near total loss of riparian area and stream form and function. Through the restoration activities undertaken in cooperation with BCIT faculty and students, Guichon Creek is once again a fish bearing stream, although there is much more restoration work required.
Over the years, students in various BCIT programs have participated in the ongoing restoration and monitoring of the south-east portion of Guichon Creek. For example, students in the School of Construction and the Environment's: Fish, Wildlife and Recreation Program;  Forest and Natural Areas Management; and Ecological Restoration Program have been removing invasive vegetation and planting native riparian vegetation along the creek's banks. Students in the School of Computing and Academic Studies' Chemisty Program have been collecting water samples from the creek. These samples are then assessed by the students in the Fish, Wildlife and Recreation program who use the findings to develop an appropriate restoration strategy for the creek aimed at supporting viable fish habitat. In 2011, the ongoing erosion of sediments at the southernmost reach of the creek was corrected with an extensive riparian and in-stream restoration project, and in October 2012, the first of several infiltration galleries was completed to protect Guichon Creek from sediments and pollutants originating from the nearby car parking lots.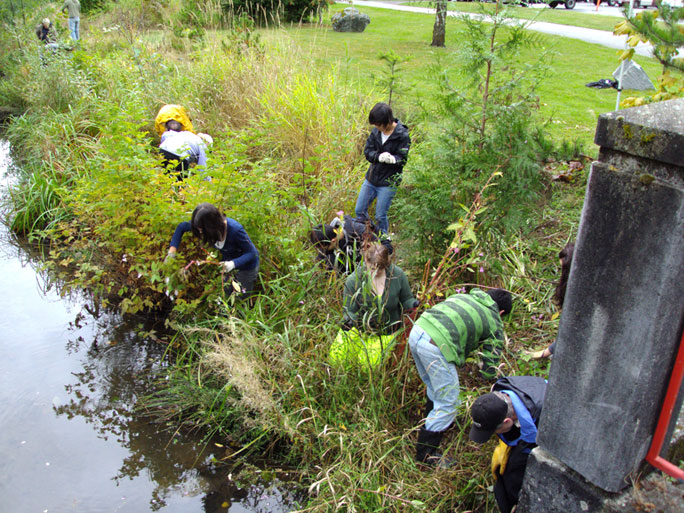 For more information about urban stream rehabilitation, river ecology and ecological restoration of rivers, please visit the BCIT Rivers Institute.
Guichon Creek in Factor Four:
The Factor Four team would like to see the portion of the creek in the Factor Four area daylight.
Why daylight Guichon Creek in Factor Four?
It would allow salmon to return on campus every year;
It would connect now famous Guichon Alley to its creek;
It would allow School of Construction and the Environment to truly demonstrate Green Trades and Technology in the Factor Four area.
Links:
See more stories on Ecological Restoration.

See case studies on Ecological Restoration.