Factor Four is about student education.  All we do, we do it with student learning in mind.  This page is for students and instructors interested in bringing our Factor Four learnings in the classroom.
In this section, you will learn how to use the following Factor Four educational tools:
Building Info Pages;

Live Energy Data;
Remote Access to Building Automation System and associated trend logs;
Case Studies;
Video Series;
Self-Guided Tour;
Answer Keys
1. Factor Four Building Info Pages
There are 7 buildings within the Factor Four area.  Each building has a page on this website.  On each building page you will find:
General description of the building (including construction type)
Fast facts (e.g.: floor area, age, etc.)
A project folder*
* Included in the Project Folder:
Floor plan
Aerial photo
Other photos
Condition survey and equipment inventory
Mechanical drawings
Single line diagrams
Link to real-time energy data
The easiest way to access the "Per building" page is to go directly to the About Factor Four page. Look for the following section and click on the building of interest:

2. Factor Four Live Energy Data
All Factor Four buildings are individually monitored in real-time for electricity, natural gas and when applicable, hot water.
To access the energy data, go to the energy dashboard website.
If the energy is data is not available from the above dashboard (e.g. the server is not available), you can also get it from the pre-loaded xls sheet found below.
factor4_backup_energy_data_natural-gas_hw_elec
3. Factor Four Remote Access to Building Automation System (BAS) and Archived Data (trend logs)
This feature was created through a collaboration between members of the BCIT's Building Science Program, BCIT Facilities Services and the Factor Four team.
This feature gives access to Faculty and Students to BAS data in "real time and near real-time" so that they can learn the dynamics of building operation, and understand the factors that affect building performance.
Two distinct features are now available:
A read-only access to the DDC system graphics and logic pages;
Access to a database with all input/output (I/O) points of the existing DDC system located in the Factor Four building (trend logs).
Instructors will be able to give demonstrations in class or via Blackboard Collaborate.  Students will have real data to analyse as part of class assignments or research projects.
If you are interested in using this system, please login to BCIT's intranet (The Loop) using your A00# and normal password and go to the following page:
Enteliweb instructions for Faculty
Please email Alexandre Hebert if you have any questions or comments regarding BAS / DDC access.
alexandre_hebert@bcit.ca
You can also learn more on this initiative by reading this blog post.
4. Factor Four Case Studies
Many Factor Four projects have been documented so they can be used in-class as case studies for students.
Each case study will provide you with the following information:
Background on the project
Problem and/or Opportunity
Solution selected
Technologies Implemented
Energy Savings and GHG Emissions Reductions
Additional Benefits and Features of the project
Project Partners
Project Fast Facts
Project Folder*
* Included in the Project Folder:
• Photos (when available)
• Documents & Reports (when available)
• Drawings, Schematics, & Specifications (when available)
• Calculations (when available)
• Videos (when available)
• Instructor Resources (when available), including exercises, presentations and recorded  tutorials
In order to view the case studies, simply use the "Categories box" located on the right of your screen (as shown in the figure below).  The "Categories box" can be accessed from anywhere on the Factor Four website.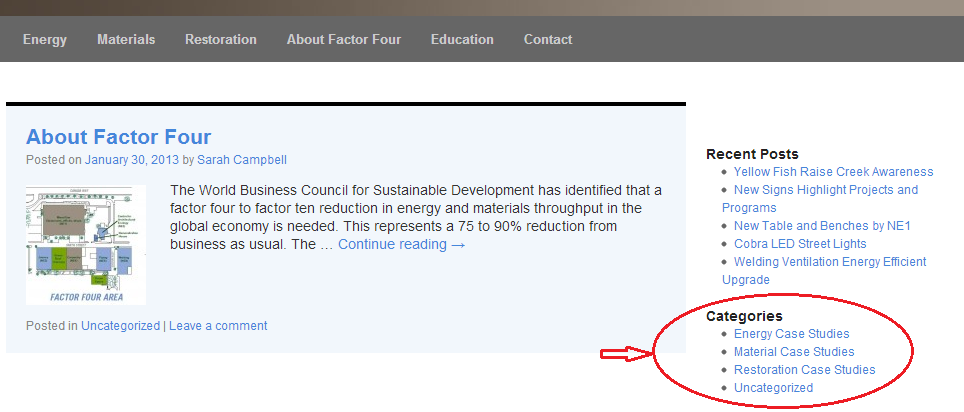 You can filter your search by any of the three components of Factor Four (i.e.: Energy, Material and Restoration).
Please email Alexandre Hebert if you have any questions or comments regarding Case Studies.
alexandre_hebert@bcit.ca
Watch the tutorial video to learn more about some of the sections described above:
5. Video Series
The BCIT Centre for Energy Systems Application (CESA), the BCIT Sustainable Energy Management Advanced Certificate (SEMAC) and the Factor Four team have partnered to create a series of educational videos in the Factor Four area.
If you are interested in "virtual tours" of mechanical rooms, electrical vaults and rooftops, please click here. We will be happy to take you to places you would normally not be allowed to visit!
6. Self-Guided Tour
The is a self-guided tour brochure and map that was developed for anyone on the Burnaby campus interested in walking the Factor Four area to witness first hand the numerous projects implemented.
The brochure / map can be downloaded here.
A guided tour of the area and a more specific tour of the demonstration house can also be booked.  Please email alexandre_hebert@bcit.ca for more information.
7. Answer Keys
Some Case Studies include class exercise(s) for instructors to use.  Most class exercises will have a companion answer key.
Answer keys can be found here.
(for instructor only)