Today, more than ever, we require vast amounts of energy to sustain our way of life: energy to heat, cool, and light our homes and places of work; energy to move us from Point A to Point B; energy to produce, transport, and use the products we consume; the list goes on.  The production and consumption of all forms of energy exert varying degrees of stress on society and the environment.  As global populations and the per capita demand for energy increase, we will ever-increasingly exceed the limits of the earth's carrying capacity and the situation will become increasingly unsustainable.  These concepts and trends were predicted as early as the 1970s.
Building Energy
The World Business Council for Sustainable Development (WBCSD), estimates that buildings account for 40% of the world's energy consumption.  For this reason, BCIT has identified Energy as one of the target sectors for its Factor Four initiative.
The Factor Four philosophy introduced in the 1970s was built on the premise that at least a fourfold improvement in current resource productivity – the amount of wealth (services) generated per unit of resource used – is required for society to live sustainably within the earth's carrying capacity.  What does this mean when applied to BCIT's Factor Four Area?
BCIT's Factor Four Area is composed of seven buildings.   Two types of energy – electricity and natural gas – are consumed in these buildings (click here to see live energy data) to provide services to the building occupants: predominantly lighting, space heating, space cooling, ventilation, and educational programs.  If we assume that the these services remain constant over time, a 75% reduction in energy throughput (the amount of electricity and natural gas imported into the Factor Four Area) would be required to meet the fourfold improvement in resource (energy) productivity targeted by Factor Four.  This 75% reduction (or 30,000 GJ per year) in energy throughput (compared to the 2008-2009 fiscal year throughput of 40,000 GJ combined electricity and natural gas) has therefore been adopted as BCIT's Factor Four Energy Sector working target.
Energy Planning Framework
Every great idea needs a strategy and a plan to guide activities toward making the idea a reality – Factor Four is no different.  BCIT integrated two systematic approaches to develop its energy management strategy and subsequently its Strategic Energy Management Plan that charts the course to reduce energy throughput in the Factor Four Area by 75%
"The 4Rs of Sustainable Community Energy Planning" guided development of BCITs over-arching energy management strategy.  The method was developed by Community Energy Association (credit: Robyn Wark and Jorge Marques at BC Hydro) and provides a process for local governments to build communities that, from an energy perspective, are more sustainable.  The approach is depicted and described below.
The pyramid structure of the 4 Rs of Sustainable Community Energy Planning highlights the importance of a systematic approach to community energy planning.  The effort put into the early levels provides a solid foundation upon which to build subsequent levels higher on the pyramid.
Level 1:  Reduce Energy Demand – This first level focuses on reducing the amount of energy used by the buildings to provide the required services.  Commonly known as "Demand-Side Management" (DSM), this level focuses on changes to how buildings are operated, building occupants' behaviour regarding how they use energy while in the buildings, how the organisation considers energy in its daily operations (e.g. are there energy efficiency requirements in the Purchasing Policy?), and technological improvements to building systems (e.g. lighting systems) to reduce energy demand.  This is the critical first level at the base of the pyramid because the more demand can be reduced, the greater the impact of the subsequent levels higher on the pyramid.
Level 2:  Re-use Waste Heat to heat buildings and hot water – Heat can often be recovered from waste streams that leave buildings e.g. in ventilation air; in wastewater; in flue gases from combustion processes.  The premise here is that energy has been used to produce this heat so it should be recovered and re-used whenever economically feasible.
Level 3: Renewable Heat Sources to heat buildings and hot water – Non-renewable fossil fuels are predominantly used to heat buildings and hot water in British Columbia.  The use of non-renewable resources is unsustainable by definition.  Renewable resources such as biomass (material derived from living, or recently living organisms such as wood), and solar thermal energy should be considered in Level 3 to provide these services.
Level 4: Renewable Energy for Electricity – Once Levels 1 though 3 have been fully-developed, communities should consider options for generating electricity from renewable sources such as biomass, micro-hydro, wind, solar, tidal and geothermal.  By building local, renewable electricity capacity, communities become more self-sufficient while simultaneously developing local green economies.  This level can also reduce regional greenhouse gas emissions and improve air quality if implemented in jurisdictions where grid electricity is generated using greenhouse gas intensive technologies such as coal-fired generation.
The Factor Four team also works with the below illustration of the "4Rs" of Sustainable Community Energy Planning: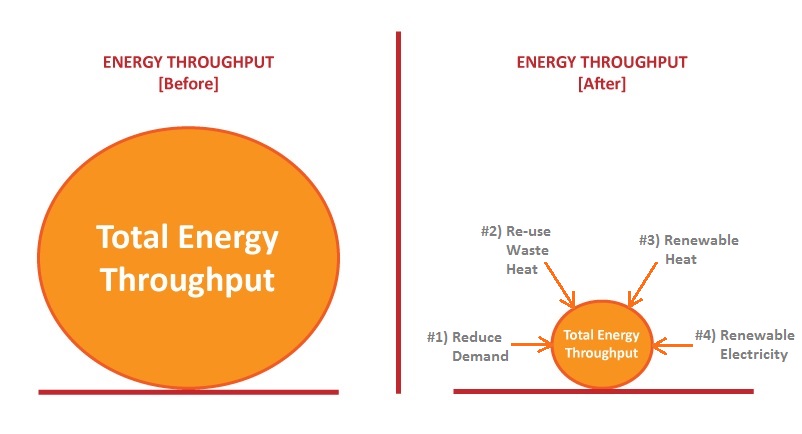 To create its Factor Four Strategic Energy Management Plan (SEMP), BCIT applied a commonly-used methodology that employs the following three-step process: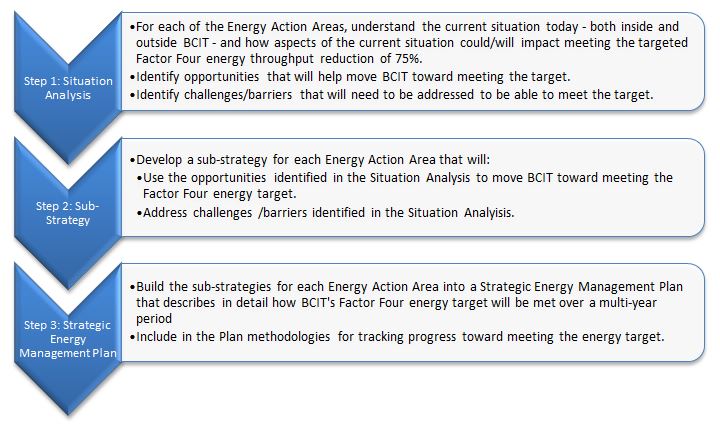 Follow the links below to learn more about the planning process and current status of Factor Four Strategic Energy Management Plan implementation/monitoring in each of the Energy Action Areas.
To view a summary of planned and completed Factor Four energy projects – including estimated energy savings, greenhouse gas reductions, and financial viability indicators: FactorFour Energy Projects Summary – May 2015 Revision – WEB VERSION.
Read the full version of the Factor Four energy plan: Factor Four Strategic Energy Plan – May 2015 Revision