The Centre for Architectural Ecology is defined by collaborations in living architecture, acoustics and building science. As a research centre in BCIT's School of Construction and the Environment, we are concerned with the natural and built environments and the relationship between them.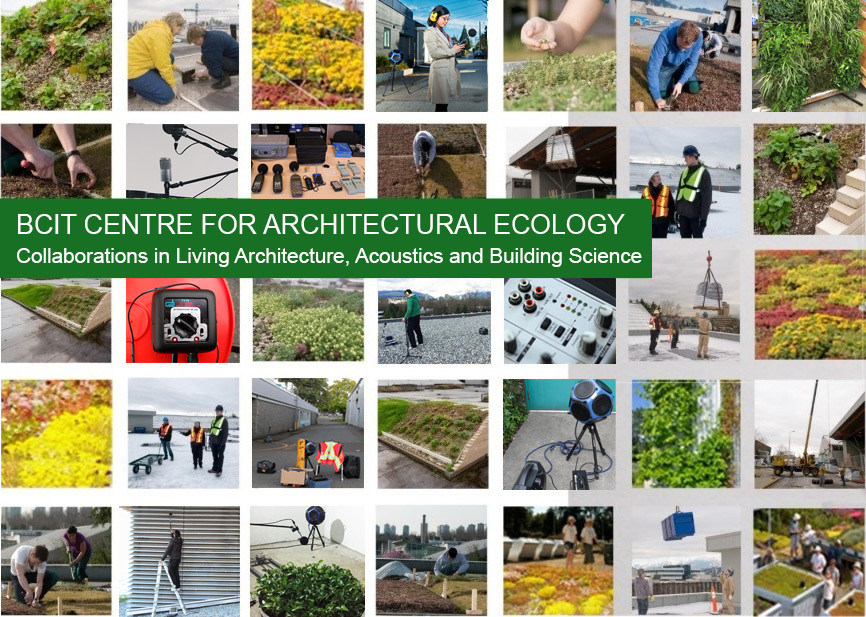 The Centre's initial research established how extensive green roofs perform in the climate of coastal BC, and much work has taken place since then. Our current research, both on the Elevated Lab and in acoustics, are examining the extent to which extensive green roofs serve a city's ecological health and well-being.
---
One of the co-benefits of green infrastructure is that it provides pollinator habitat and supports local biodiversity. One of our instructors, Dr. Christine Thuring, will speak alongside other experts at this virtual symposium on "Green Infrastructure For Biodiversity Protection and Enhancement". Learn about the critical role living architecture plays to resilient and diverse urban ecosystems, and the design principles that support biodiverse projects and enhance their performance. Register here.
---
Towns and cities globally are going green to adapt to climate change. World Green Roof Day is an opportunity to celebrate the role of green roofs to a healthy, safe and abundant future. Green roofs provide numerous benefits, all at once, making them a unique, multi-functional technology with rapid returns on investment. Follow #WGRD2020 and #greenroofsbc for the international party!
---
On Sept. 30, 2019, the Cultural Landscape Foundation announced that our friend, Cornelia Oberlander, is the namesake of a recently established international landscape architecture prize. The "Oberlander Prize" will be conferred biennially beginning in 2021, and is the first and only such prize that includes a US$100,000 award, along with two years of public engagement activities. Bravo, Cornelia, we love you!!!
---
Urban Living Architecture Symposium @ Cascadia GRiT in Portland, OR (Sept 12-14,2019)
Portland has long been a leader of sustainability and living architecture in the Pacific Northwest. This symposium, co-organised with Green Roofs for Healthy Cities, will bring together greening interests across Cascadia to review the latest in the hows and whys of urban greening. Maureen and Christine will be participating in the event, and hope you can make it, too. Find more information here.
---
Interview with CKNW about urban agriculture
As part of its series on the Future of Work 2019, Christine Thuring was interviewed about current trends in urban agriculture. Listen to the interview here (under the episode titled The Future of Farming). For more on rooftop agriculture and urban agriculture in Vancouver, visit our blog.
---
Careers in horticulture, ecology, and design
Christine Thuring served on a small panel about careers in horticulture at KPU's 8th Annual Branching Out Horticulture Career Expo. This is an opportunity for KPU Horticulture students and employers to engage insightful conversations about careers in the horticulture industry.
---
'Ecologies' project featured in LINK magazine
The Elevated Lab installation drew the attention of BCIT Student Association. Read the article here.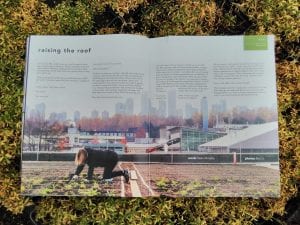 Please note two minor corrections to the article: i) The 'ferns' were actually Yarrow; ii) Green roofs can reduce the cost of heating giant buildings by the thermal mass and shading they provide (not by evapotranspiration), thereby reducing heat flux into the building through the roof and reducing the need for space cooling.
---
Evolution 107.9 interview "For the Record"
Ash Murni interviews Dr. Christine Thuring about green roofs, youth engagement, policy, and shifts in environmental awareness.
---
Rainwater harvesting system to irrigate living wall and green roofs on Elevated Lab
A 5000-gallon rainwater harvesting cistern was installed at the southern corner of the NE4 Carpentry area, and will be used for irrigating the green roof and living walls associated with the Elevated Lab. Harvesting and recycling stormwater is not standard practice, especially not in the rainforest climate of coastal BC. Water is a precious resource, however, and this project examines the practicalities that may become essential to low impact, biodiverse and functional green infrastructure in the future. This hands-on collaboration between the Piping Department, Centre for Architectural Ecology, and Campus Planning and Facilities is part of Factor Four, which represents BCIT's commitment to sustainability.
---
Vancouver Green Roof Symposium (Dec. 5, 2018)
This one-day event contributed to the development of a green roof policy and construction standards for the City of Vancouver. This policy will, in fact, serve as a model for other municipalities in coastal BC. On behalf of the Centre, Dr. Christine Thuring presented data and results that relate green roof performance to design in the Pacific Northwest. The symposium brought together industry experts and local leaders, as well as leaders from other cities. Watch this space!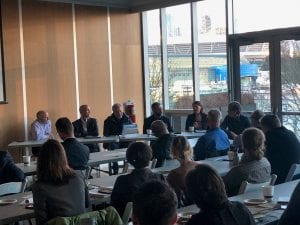 ---
Dr. Maureen Connelly featured in October 2015 issue of Vancouver Regional Construction Association News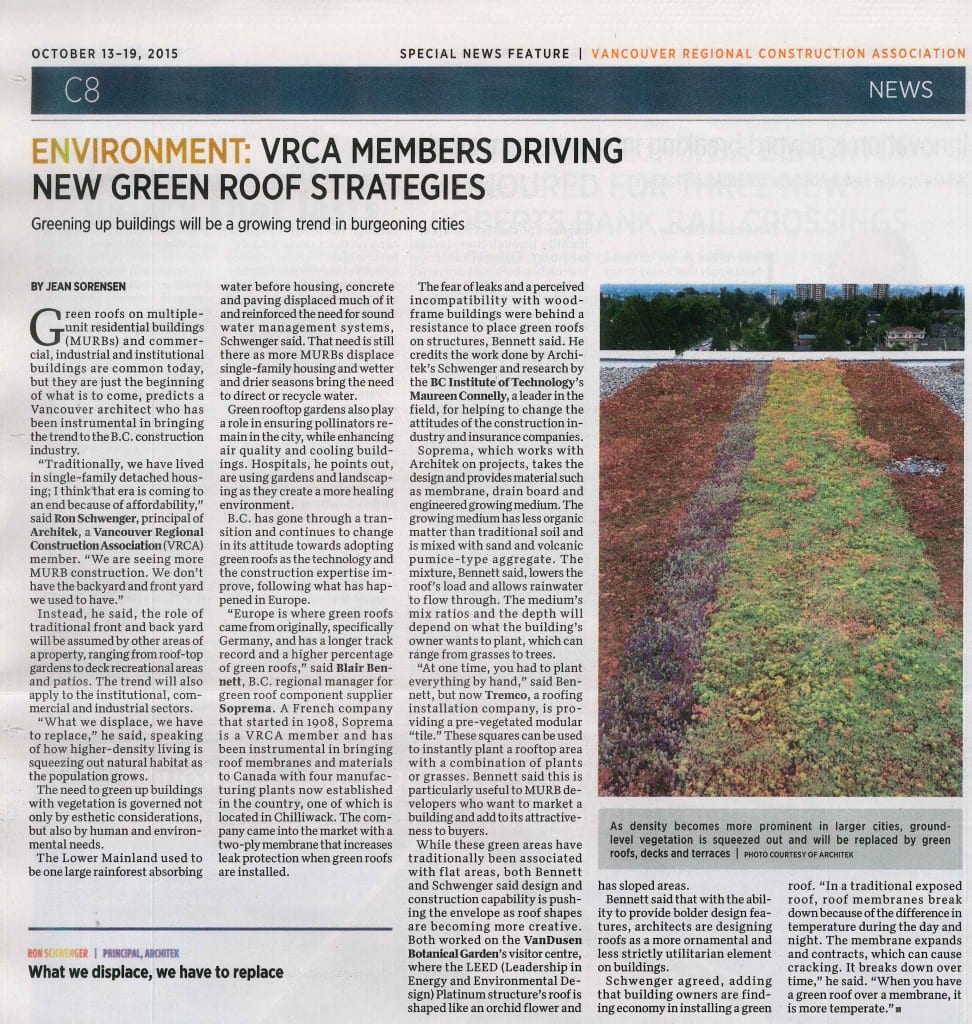 ---
---