The Centre for Architectural Ecology is defined by collaborations in living architecture, acoustics and building science. As a research centre in BCIT's School of Construction and the Environment, we are concerned with the natural and built environments and the relationship between them.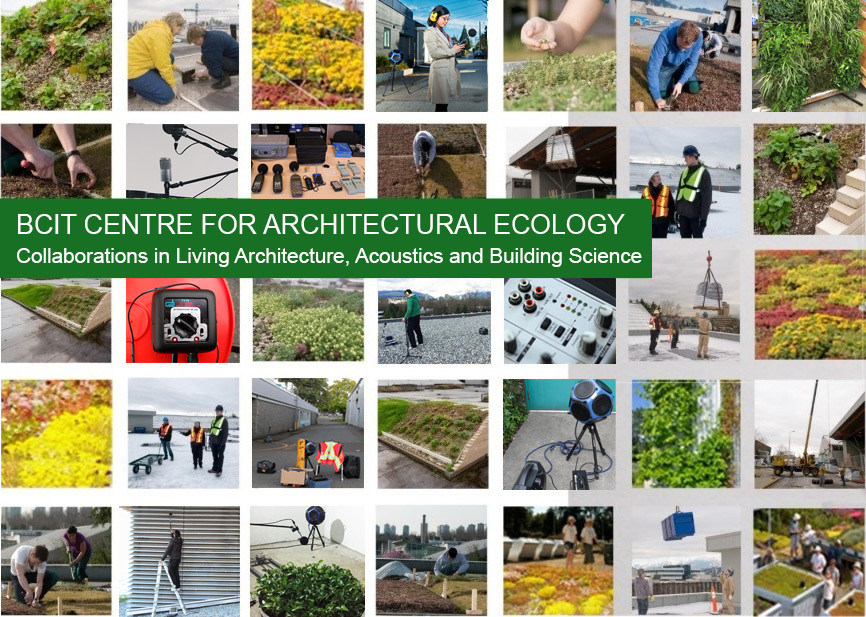 The Centre's initial research established how extensive green roofs perform in the climate of coastal BC, and much work has taken place since then. Our most current research (on the Elevated Lab) is examining the extent to which extensive green roofs serve a city's ecological health.
---
Rainwater harvesting system to irrigate living wall and green roofs on Elevated Lab
A 5000-gallon rainwater harvesting cistern was installed at the southern corner of the NE4 Carpentry area, and will be used for irrigating the green roof and living walls associated with the Elevated Lab. Harvesting and recycling stormwater is not standard practice, especially not in the rainforest climate of coastal BC. Water is a precious resource, however, and this project examines the practicalities that may become essential to low impact, biodiverse and functional green infrastructure in the future. This hands-on collaboration between the Piping Department, Centre for Architectural Ecology, and Campus Planning and Facilities is part of Factor Four, which represents BCIT's commitment to sustainability.
---
Vancouver Green Roof Symposium (Dec. 5, 2018)
This one-day event contributed to the development of a green roof policy and construction standards for the City of Vancouver. This policy will, in fact, serve as a model for other municipalities in coastal BC. On behalf of the Centre, Christine Thuring presented data and results that relate green roof performance to design. The symposium brought together industry experts and local leaders, as well as leaders from other cities. Watch this space!
---
"Green Infrastructure and Net Zero buildings" @ The Builders' Breakfast Series (Nov. 29, 2018)
On November 29, the Greater Vancouver Homebuilder's Association is offering a Builder's Breakfast on the topic of NetZero Energy homes and Green Infrastructure. Christine Thuring and Alexandre Hebert will speak from 7:30 to 9:30 at the Trev Deeley (1875 Boundary Road Vancouver).
"As the BC Building Code continues on its path to require NetZero Energy-Ready homes by 2032, Metro Vancouver home builders need to expand their knowledge of construction and available technologies to meet these advancing standards. This month's Builders' Breakfast Series seminar will take a deeper look at NetZero homes and performance pathways to build a home that leads by today's standards but will soon become the industry norm. New energy-efficient standards bring opportunities for more efficient building solutions, including green infrastructure. The second-half of the seminar will be dedicated to examining existing and emerging opportunities and requirements for green infrastructure in Metro Vancouver. After an overview of green roof performance for coastal BC, other forms of green infrastructure will be introduced and how their integration can produce zero-discharge, low impact developments."
This was an exciting session to get immersed in building to higher performance levels and learning about new green strategies in construction.
The Acoustics of Vancouver's Residential Laneways
Dr. Maureen Connelly featured in October 2015 issue of Vancouver Regional Construction Association News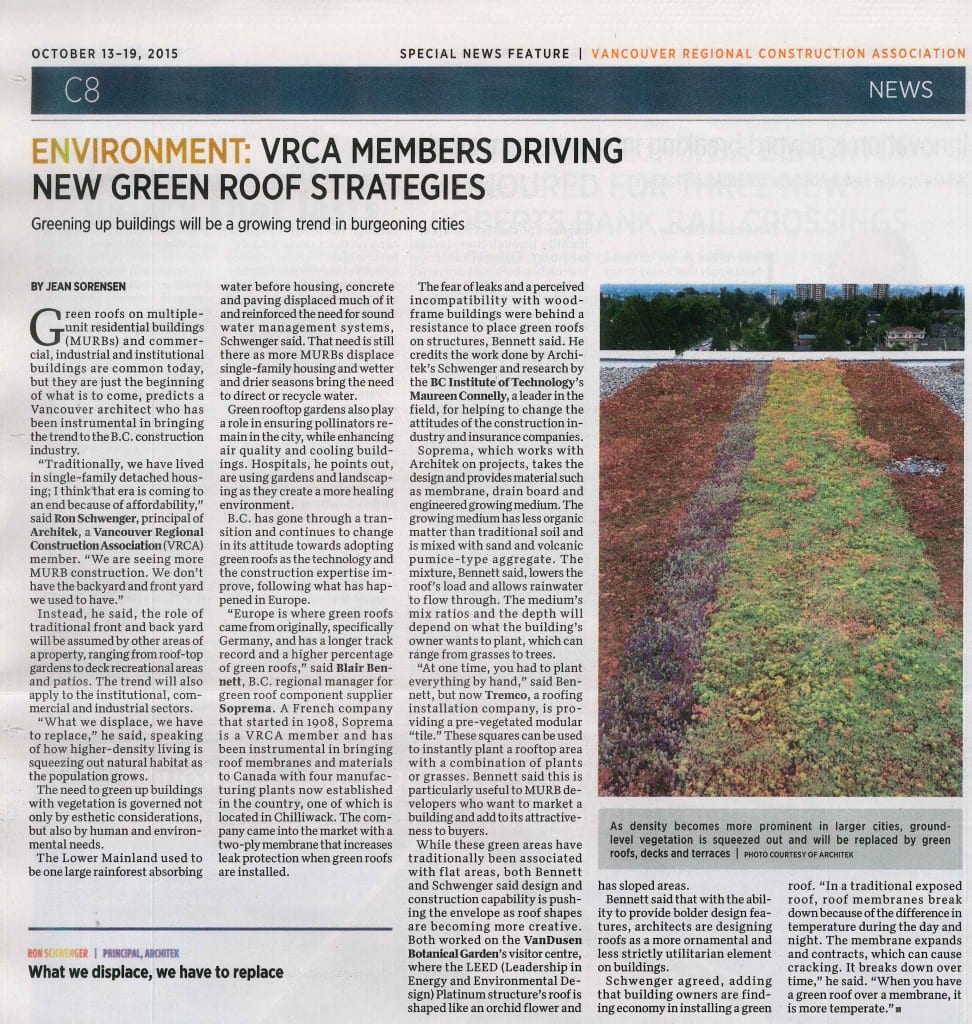 ---
---