The City of Burnaby has awarded BCIT's Factor Four initiative with an Environmental Award – Planning and Development.
The Factor Four initiative aims to reduce the energy and materials throughput associated with educational delivery at the North end of the BCIT Burnaby Campus by 75% (a factor of four) below 2009 levels without diminishing service levels. To date, the initiative has achieved a 50% reduction in energy use and related GHGs emissions as well as fostering interest and improvement in materials stewardship and ecological restoration.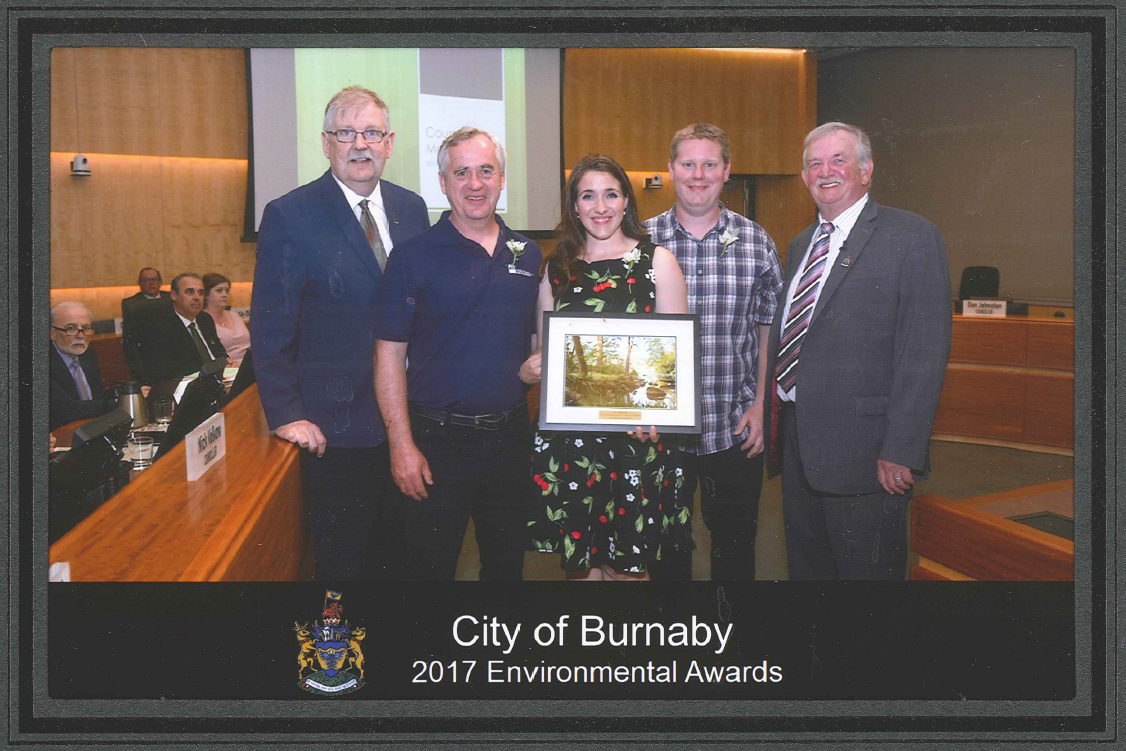 From left to right: Burnaby Concillor Dan Johnston, BCIT Joinery Instructors Rob Sawatzky, Breena Jackson and Kyle Karlstedt, Burnaby Mayor Derek Corrigan
The letter we received to acknowledge this achievement states:
"The City of Burnaby's annual Environmental Awards Program creates an occasion to recognize and acknowledge the people, groups, businesses and institutions in our community who are actively and significantly contributing to the sustainability of our environment.
Burnaby City Council, at its 2017 May 15 meeting, approve the recommendation brought forward by the Burnaby Financial Management Committee that a 2017 Environmental Award for Planning and Development be presented to the British Columbia Institute of Technology's Factor Four Initiative for outstanding contributions to sustainability and the built environment."
This is a fantastic recognition of our vision and efforts to transform our campuses into a Living Lab of sustainability. Many thanks to the SOCE and Facilities and Campus Development and BCIT Green Team for collaborative efforts to get this initiative going. It is through our shared efforts that this initiative has achieved success, and hopefully it can serve as a model for ongoing efforts to achieve sustainability through both our educational and Campus Plan efforts.