Recently, the School of Construction and the Environment at BCIT hosted a successful workshop on low carbon district energy systems. The workshop brought together over 75 people, including energy professionals, educators and students, as well as others tuning in online from across Canada. Presenters included representatives from FVB Energy, BC Bioenergy network, the City of Vancouver, UBC, and Corix Utilities. Their goal was to share ideas and current initiatives on achieving a low-carbon city.

Under BC's Climate Leadership Plan released in August 2016, the Energy Step Code outlines a set of policies that encourage the development of net-zero buildings in the province. The City of Vancouver surfaces as the leader in BC's plan with their recent approval of zero GHG emissions buildings bylaws, and seeing this example, other municipalities are following CoV's footsteps. The bylaws focus on two pathways to achieve a low-carbon city:
The construction of high-performance buildings such as Passivhaus.
The employment of low carbon district energy systems (DES) connecting buildings that cannot attain Passivhaus standards.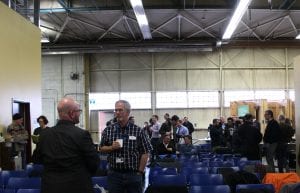 The goal of net-zero emissions buildings can be achieved with the integration of DES. In addition to facilitating community-scale heating and cooling, a DES has potential to reduce GHG emissions, stabilize energy prices, provide an alternative to long-term reliance on fossil fuels, and simplify building operations. The workshop highlighted the potential for bioenergy as a clean source of energy for DES and discussed current initiatives at SFU, UBC, BCIT, Southeast False Creek, and Ottawa.
It is very exciting to see people from different walks of life come together with the willingness to share and collaborate for a more sustainable future. BCIT looks forward to staying connected with everyone and contributing as educational leaders to the City of Vancouver's goals.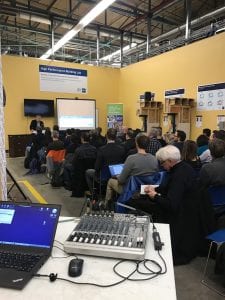 Special thanks to the following for making this a success:
Richard Damecour, FVB Energy
Scott Stanners, BC Bioenergy Network
Travis Kulak, Corix Utilities
Derek Pope, City of Vancouver
Jeff Giffin, UBC
Jim Manson, FVB Energy
David Trigg, FVB Energy
BCIT AV and IT Services
Here's a video to break down some of the ideas.
[youtube https://www.youtube.com/watch?v=7BznKyEb0bc]
Couldn't make the workshop? No problem! Here are the presentation slides and a full recording of the event.
District Energy 101
Bioenergy as Energy Source District Energy Utility
Expansion of District Energy System at Burnaby Mountain
Southeast False Creek Neighbourhood Energy Utility
UBC Steam to Hot Water Conversion
Modernization of the National Capital Area District Heating and Cooling
[youtube https://www.youtube.com/watch?v=kCnldZhz3H0]
[youtube https://www.youtube.com/watch?v=u76u5iq4V7E]