Phase one of the Guichon Alley project is about bringing awareness of the value of well preserved urban creeks. The alley between buildings NE6 and NE8 has been renamed to pay tribute to the beautiful Guichon Creek.
During the fall of 2013, the BCIT Interior Design students under the leadership of Dixie Hudson worked with BCIT staff in order to bring more "creek" awareness to the users of the alley.  Their suggestion: a photo display looking at the history of Guichon Creek. Watch the video produced by the students.
Read an interesting article in BCIT's 2013 Year in Review.
The Factor Four team will implement the student ideas in the summer of 2014, just on time for BCIT 50-yr anniversary.
Almost final (photo taken early October 2014):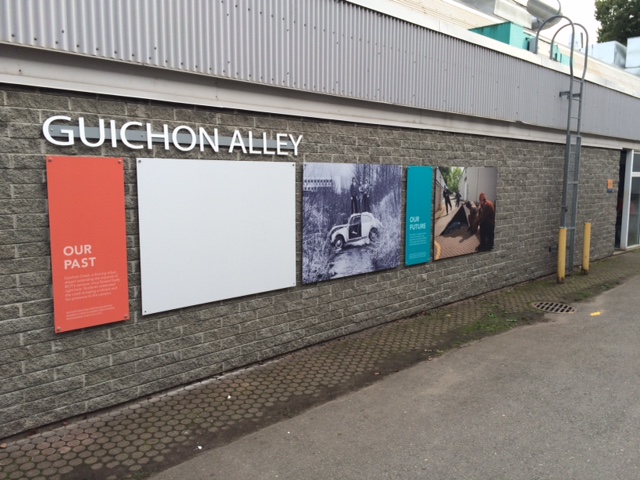 Phase two will include work from the BCIT Rivers Institute, BCIT Ecological Restoration program and Campus Development to assess whether or not it would be possible to daylight this portion of Guichon Creek.
NEWS!
Read about BCIT's president commitment to daylight the creek.