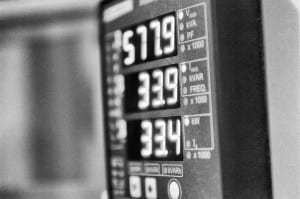 You can't manage what you don't know. In order to understand how much electricity is used at BCIT, meters must be used to better understand use patterns and consumption.
New opportunities arise when energy is being metered in real time down to the building level. Examples of such opportunities are:
Creating an energy consumption baseline to track progress and measure success (i.e.: celebrate);
Assigning a budget in order to drive change through cost accountability;
Implementing behavioral change campaigns;
Improve reporting granularity (every: month->week->day->hour…);
Identifying high energy users (opportunities), benchmark and prioritize energy saving areas;
Providing building operators alarms so that problems are addressed within a few minutes rather than a few months;
Supporting full building continuous Recommissioning.
The Factor 4 team partnered with BCIT GAIT team and BCIT Facilities to select, install and integrate the meters.  The team decided to go with a mix of Schneider 7300 and 7350 meters.  All meters use Ethernet to sent the data to the Schneider Ion Enterprise database.  The electrical meters selected for this area of campus are capable of measuring many things including:
"Active Energy Delivered"; "kWh" (cumulative);
"Active Power Mean Demand Delivered"; "kW";
"Interval Active Energy Delivered"; "kWh";
"Power Factor Signed Mean"; "PF".
The data is retrieved from the Schneider Enterprise database by the GAIT EMS system so that it can be visualized and downloaded by the Factor 4 team.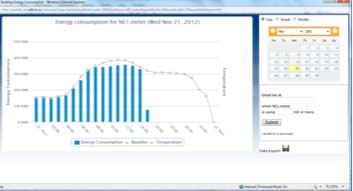 What about heat:
Heat can present challenges when you are trying to measure it for just one building. Refer to the following posts for more information: "Real Time Smart Metering – Hot Water (Thermal Grid)" and "Real Time Smart Metering – Natural Gas".
Energy conservation: n/a
More Information:
Visit ems.bcit.ca/factor4 to see live data.
If you are experiencing trouble with downloading the live energy data, you can visit the Teaching Resources page for solutions.
You can also download all the data trends stored within the Building Automation System (BAS) for all Factor Four Building.
Download an "in-class" exercise inspired by this Factor Four project