With the help of Prism Engineering, a full review of interior lighting has been completed for NE2, NE4 and NE6 to look for ways to reduce energy consumption. The recommendations from the study, if all implemented, could result in energy savings of over 157,000 kWh and demand savings of 29 kW each year. The bundle below would result in savings of 113,000 kWh and demand savings of 24 kW at a total project cost of $230,000:
Convert all incandescent and compact fluorescent downlight luminaires with existing wattage greater than 15W to LED hardwired 9W
Replace exterior HID lighting by lower wattage LED
Replace all HID luminaires in NE4a-Canopy with lower wattage LED
Install daylight sensors in NE4a-Canopy and one parking booth
Install occupancy sensor of timer in NE4a-Canopy
Suspended and surface mounted box luminaires in NE03-Centre for Architectural Ecology will be replace with new, direct / indirect luminaires with only two lamps per luminaire and redundant luminaires inappropriately spaced will be removed
Nightlight / walk-through lighting in NE04 and NE06 will be rewired so that night lighting consists on only one lamp in each three lamp luminaires along the North / South interior walkway. Similar as what is being done in NE2 with a small improvement (also applied to NE2)
Install occupancy sensor in NE4a to work with new LED luminaires;
NE6 shed: add occupancy (or in-occupancy) control;
Install roof mounted daylight collection system in NE02 or NE04 (as a pilot – one building only), integrated with daylight sensors, to offset artificial lighting usage (See Solatube info below).
The full case study will be published soon.  Stay tuned…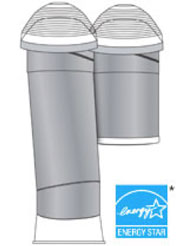 More on Solatube…
Using a dome on a roof, Solatubes channel natural light from the outdoors down into the interior of a building with a system of highly reflective material. This will greatly reduce the need to use electric lighting during the day. The technology also avoids heat from the sun warming the buildings too much when the summer sun is intense.  Read more on another Factor Four project linked to this one.
Energy conservation: Up to  565 GJ/yr or 157,000 ekWh/yr
More Information:
Download the Engineering Report
Download the Engineering Report – Detailed Data
Learn more about Prism Engineering