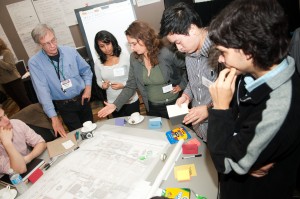 In October of 2009 about eighty students, faculty and local supporters including representatives of BC Hydro, the regional electric utility, and the Real Estate Foundation of British Columbia, participated in the three-day workshop called a "charrette". This workshop was part of the Gaining Ground Conference, which focused on resilient cities.
The event was facilitated by Kristin Miller, and collaborators from Ecocity Builders, a Non-Governmental Organization out of Oakland, California. Ecocity Builders has a goal to "reshape cities for the long term health of human and natural systems".
The students focused on creating a sustainable area on BCIT, and looking at what would be necessary for a four-fold and ten-fold reduction of energy and materials. Much of the focus was on the northern third of campus, the current Factor IV area. The goal was to "show exactly how to achieve a resilient city transformation in a real place, a living, teaching community".
For more information on the Charrette, check out the Sustainability Charrette Final Report, the Sustainability Charrette Sourcebook, or the BCIT Sustainability Charrette Details About Implementation of Recommendations.