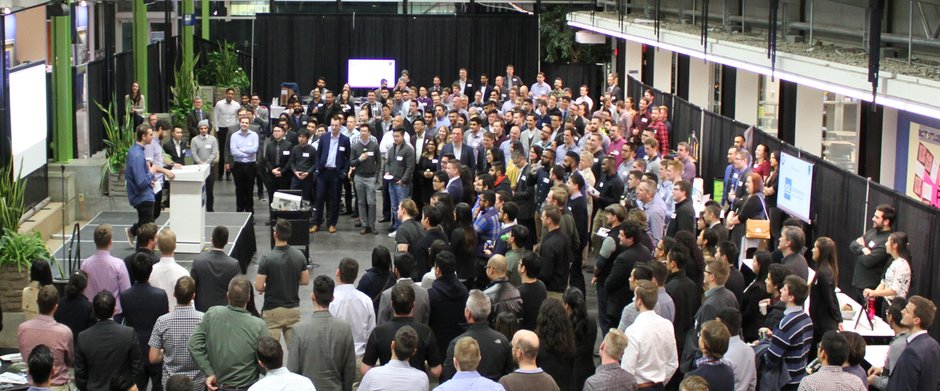 Professional Night 2020
This year our Professional Night will be held on Wednesday, February 12th, 2020. The mixer & sponsor presentations will start at 6:15PM in The Great Hall (SE2). The panel discussion will start at 5:15PM in Town Square A+B (SE2). The purpose of this event is to give professionals the opportunity to network and discuss career paths with students. The event also allows students to develop a better understanding of the Civil Engineering Industry.
The invitation to BCIT CSCE's Professional Night is extended to all Civil Engineering Professionals, CSCE Student members, Faculty & Industry Representatives – and organizations are welcome to send more than one representative. This complimentary event is made possible through your generous sponsorship of the CSCE – BCIT Student Chapter. If you have not been contacted by the BCIT CSCE with an invitation to Professional Night and would like to attend, please RSVP as soon as possible filling out a form at this link or by emailing professionalnight@bcitcsce.ca. We look forward to seeing you on Wednesday, February 12th.
As well as sponsorship helping our Professional night it also provides a platform for 1st through 4th-year BCIT Civil Engineering Students to get involved in activities that promote the Civil Engineering community beyond what is presented in the course curriculum. Your funding contribution will help us to provide our student members with the opportunity to participate in activities such as:
Informative technical presentations seminars on current industry projects.
The American Concrete Institute (ACI), Troitsky Bridge Building, and Western Engineering Competitions.
2020 Platinum Sponsors
Registration and RSVP
Panel Discussion
Big thank you to this year's panelists for participating in our discussion!
Leonard Pianalto, RJC
David Tara, Thurber Engineering Ltd.
Robbie Lew, McElhanney
Maggie Smith, KCB (Klohn Crippen Berger)
Shara Viaje, Mott Macdonald