Our Club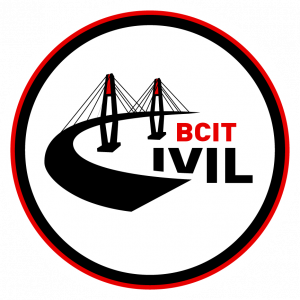 The BCIT Student Chapter of the CSCE is the largest student chapter in Canada and boasts a historical 100% membership rate amongst third and fourth year Civil Engineering students. Each year the Chapter hosts technical seminars, participates in student competitions, raises money for charity, organizes field trips, sends representatives to engineering-related conferences, hosts social events, and organizes our annual professional night.
CSCE National

Founded in 1887 by prominent Civil Engineers in Canada, the Canadian Society for Civil Engineering (CSCE) is a learned society intended to enhance the public image of the civil engineering profession and to develop and maintain high standards of civil engineering practice in Canada. Their mission is to promote the profession of civil engineering in Canada and the development, acquisition and exchange of professional knowledge within the field of civil engineering. In 2010, the Society adopted a new vision: Leadership in Sustainable Infrastructure. This new vision is to be reflected in all aspects of the CSCE's activities. For more information visit: www.csce.ca
BCIT Civil Engineering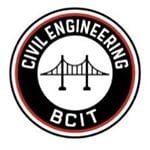 The primary aim of BCIT's Bachelor of Engineering (BEng) in Civil Engineering degree is to academically prepare the engineering student for professional practice. The curriculum focuses on developing strong skills in engineering science and design, communications, and management. Throughout the program, the students are given many opportunities to develop their critical thinking, problem solving and creative abilities. A Diploma of Technology in Civil Engineering Technology credential is conferred after the first two years of academic study within this degree program and a Bachelor of Engineering in Civil Engineering is conferred after academic year four. For more information visit: www.bcit.ca/study/programs/8660beng
President's Award
For the fourth time, the BCIT Student Chapter was awarded the CSCE President's Award in recognition of the exceptional accomplishments of the chapter over the 2016/17 school year. The award was presented at the CSCE National Conference in Vancouver BC.
To be eligible for the CSCE President's Award, student chapters must submit a multi-page proposed plan for the academic year in the Fall. This is then followed up with a comprehensive report on the chapter's execution of the plan. The plan/report must include a list of events (such as educational presentations, social events, competitions, etc.) and a budget for the coming year. BCIT's Student Chapter of the Canadian Society for Civil Engineering continues to among the best in Canada, winning the following President's Choice Awards:
2019 - 20: Honorable Mention (no winners)
2018 - 19: 1st Place
2017 - 18: 3rd Place
2016 - 17: 1st Place (tie with Waterloo)
2015 - 16: 1st Place
2014 - 15: 3rd Place
2013 - 14: 1st Place
2010 - 11: 1st Place