Save the Date and Call for Papers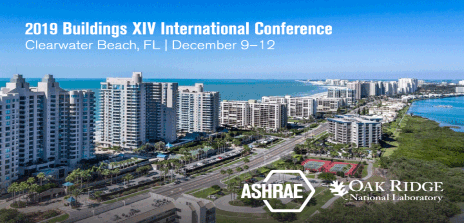 Inaugurated in 1979, the "Buildings Conference" takes place every three years allowing time to develop new research and technology applications and to document the findings. Attendance is international and draws heavily on the advanced technical knowledge of all our global experts.
The "Buildings Conference" presents a great opportunity for product manufacturers, research groups, technical advisors, builders, designers and other consultants to discuss their work achievements, interest and awareness of buildings issues, and provides solutions to some of our major building problems.
The international conference on Thermal Performance of the Exterior Envelopes of Whole Buildings XIV, will be held in Clearwater, FL on December 9-12, 2019. A written paper will be required for all presentations and the conference will present two tracks:
Track – PRINCIPLES – Devoted to Research and Development
Track – PRACTICES – Focus on Practical Applications and Case Studies
The Steering Committee seeks papers:
that focus on the development of high impact technologies and processes that are lifecycle cost effective, and reduce energy use and environmental consequences.

that demonstrate how their topics, on the thermal and moisture performance of the exterior envelope of whole buildings, will lead to high performance buildings.

on case studies that are unique and new.

for the Practices Track that demonstrate technologies ready for implementation.

for the Principles Track that show the promise of short to mid-term adoption.
Abstracts are due November 14, 2018. Upon acceptance, papers will be due February 22, 2019.
For more information, and a full list of suggested paper and presentation topics visit ashrae.org/BuildingsXIV.
We hope to see you at the 2019 Buildings XIV International Conference!