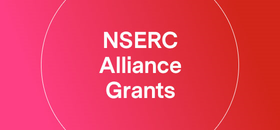 NSERC has officially launched the NSERC Alliance grants – Canada's Research Partnerships Program.
Alliance grants encourage greater collaboration in Canada's R&D system by providing support for projects that include both generators and users of research results and knowledge. Alliance is designed to be more responsive and flexible for our research community and to accommodate a broader range of partners. It also includes incentives for collaborations with small and medium-sized enterprises and multi-sectoral partnerships, and offers an accelerated means for projects to scale and grow.
A few key benefits:
Single point of entry to rapidly develop new partnerships, or facilitate the growth of existing research collaborations.
Support for projects of different levels of scale and complexity, from new, short term, one-on-one collaborations, to larger multi-stakeholder research teams.
Enhanced flexibility in the types of projects and partners, providing more opportunities for more innovative collaborations.
Supports research focused on outcomes as well as the training of research talent in a multi-partner environment.
Streamlined application process resulting in faster decision times, thereby supporting modern and fast-breaking research.
How and when to apply
For full details about the Alliance grants and how to apply please visit the new Alliance webpage.
Alliance will be launched in a phased approach. On May 21st, Option 1 will be open for applications requesting $150,000 or more annually from NSERC. Option 1 for applications requesting less than $150,000 annually from NSERC, as well as Option 2, will be phased in gradually. Please continue to check the website for the latest information and sign up to the mailing list on the Alliance webpage.
Transition plans for NSERC's previous suite Research Partnership programs
Budget 2018 directed NSERC to consolidate its Research Partnership grants into a single grant program in an effort to modernize, simplify and improve the grants. As such, Alliance grants will consolidate Engage grants, Industrial Research Chairs, Connect grants, Strategic Partnership grants for Networks and Projects, Experience Awards, and Collaborative Research and Development grants.
Applications to the Collaborative Research and Development grants, as well as to the Engage and Engage Plus grants will be accepted until May 31, 2019.
All ongoing awards, as well as all new commitments made before the launch of Alliance grants will be honored until their completion under the terms and conditions of the original award.
All applications for grants in the programs that have been consolidated that were received before the respective program's application deadline will be evaluated and adjudicated according to the original rules and criteria.
Visit the Program Transitions webpage and the FAQ page for more details.
Stay informed on the latest Alliance updates
Sign up to the mailing list on the Alliance webpage.