The BCIT SMART team was awarded the 2018 Environmental Award from the City of Burnaby on Monday, June 11, 2018, at Burnaby's City Hall.
Since 1996, the City of Burnaby's Environmental Awards Program has recognized the outstanding contributions made by individuals, groups, organizations, institutions, and businesses to environmental sustainability in our community. These contributions help the City of Burnaby's community meet the goals of the City's newly adopted Environmental Sustainability Strategy (ESS), a plan for Burnaby's green future.
BCIT's SMART Energy OASIS project team was presented with the Environmental Award in the category of Planning and Development.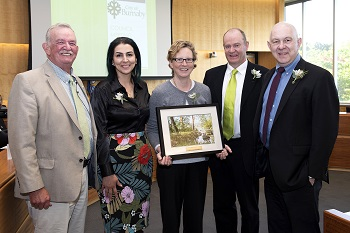 Accepting the award is Kim Dotto, Dean, Applied Research; Clay Howey, SMART Program Head; Joey Dabell, SMART Project Leader;  Minoo Shariat-Zadeh, SMART Research Associate. SMART Director, Dr. Hassan Farhangi, unfortunately, was unable to attend.
The Energy OASIS (Open Access to Sustainable Intermittent Sources) project demonstrates solutions that could be employed to help reduce the impact of fast-charging on the electric grid. The Energy OASIS project integrates photovoltaic panels and Li-Ion energy storage for a Level-3 fast charge electric vehicle charge station within BCIT's Smart Microgrid system.
While the project completed in September 2014, technology demonstrations, data collection, and analysis are ongoing.
"I congratulate the SMART team for their hard work and dedication in providing solutions and addressing the global issue of climate change," said Kim Dotto, Dean, Applied Research.
What is a Smart Microgrid?
Simply put, a Smart Microgrid is an efficient, cost-effective and environmentally responsive way to produce, store and distribute energy for the new millennium.
Congratulations SMART team!