(Adapted from an article written by Ron Wlock)
An applied research project at BCIT to design an automated packaging machine for Purdy's Chocolatier has been completed successfully.  The collaborative project involved Ron Wlock of Business Operations Management in BCIT's School of Business; Joe Newton of BCIT's MAKE+ Centre for Applied Research and Innovation (CARI); Jim Pritchard, VP of Chocolate Operations at Purdy's; and Chris Buckley, Maintenance Supervisor at Purdy's.
The goal of the project was to design the machine elements of an automated packaging machine.  The current manual packaging process involves up to six individuals per conveyor belt picking and placing unit loads of chocolates on cardboard cards into storage containers. This current manual process, earmarked for automation, is illustrated below.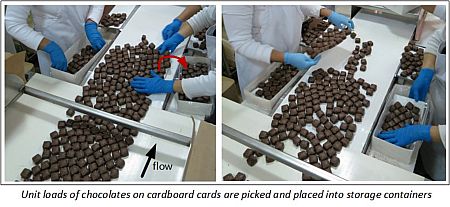 Purdy's is a Canadian-owned and family-operated business with 72 stores in Canada.  The manufacturing plant is located in Vancouver, BC.  Purdy's is the leading chocolatier in Canada and is known for its superb products.
The applied research project to design the automated packaging machine was launched as the result of an operations assessment project conducted by Ron Wlock.  The project was sponsored by the Digital Technology Adoption Pilot Program (DTAPP) of the National Research Council.  The goal of the operations assessment project was to identify where in the plant automation can be applied to increase process capability and thereby competitiveness.  The assessment project established that at this time, automating the manual packaging process would provide the greatest operational benefit.
The automated packaging machine will be used to package chocolates into storage containers measuring 14W x 29L x 8H cm.  After short term refrigerated storage in the containers, the chocolates are placed in retail sales boxes.
Automating a manual task performed by humans can be difficult.  The cognitive flexibility of humans and the dexterity of the human hand offer a seemingly infinite range of capability in a work environment subject to unpredictable changes.  This applied research project successfully navigated through many challenges imposed by constraints such as the container dimensions and configuration, and the variety in the chocolates' geometry.
Preliminary research involved canvassing international robotic and automation experts to determine if there were suitable existing components to automate this packaging process.  An equipment supplier with a cost-effective solution could not be found. Thus, a home-grown solution was sought and successfully engineered.
A variety of prototype devices were conceived, designed, constructed and tested by R. Wlock and J. Newton in the BCIT CARI lab.  Several techniques were explored to automatically create unit loads of chocolates and to transfer the unit loads into storage containers.
Ultimately, fixed automation using motorized linear slides for X and Y movement was chosen as the basis for the final machine design.  Zaber Technologies of Vancouver, who manufacture precision positioning devices, generously provided equipment for use in the research project.
Future plans include finalizing the machine design details and constructing a production version of the automated packaging machine.