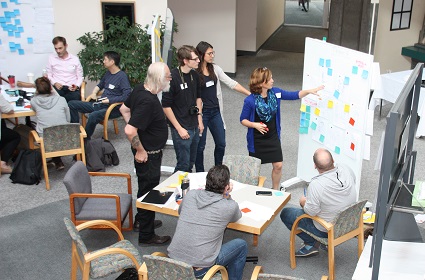 The BCIT MAKE+ team held a Makeathon at the Centre of Applied Research and Innovation (CARI) Saturday, September 23, 2017, in partnership with the Technical University of Munich's – Munich Centre for Technology in Society.
On hand were prosthetists, designers, and sociologists.  They collaborated directly with amputees translating ideas into novel 3D printed prototypes from sketches to physical prototype in just four days.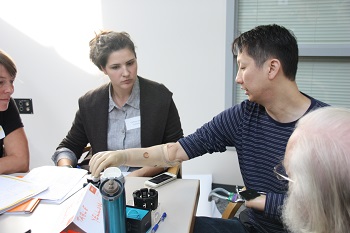 "This is the first time I have ever, as an amputee, been invited to be a part of this kind of a process.  It is refreshing to provide input as an end-user" Gary Richardson, Visitation Director, Association for Injured Motorcyclists (A.I.M.), Vice President, Amputee Coalition of BC Society (ACBC), Certified Peer Visitor/Trainer, Amputee Coalition of Canada-ACC).
The potential and challenges of printing technology in P&O was explored in an interdisciplinary collaboration between experts in the areas of prosthetics and orthotics (inclusive of users), 3D printing and design.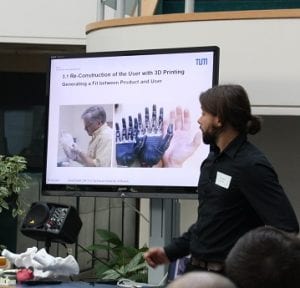 "Design puts people first. By engaging all the stakeholders in design research we enable them to untangle the complexity of their world" said Lisa Boulton, Research Associate, BCIT MAKE+ team.  "The Makeathon exhibition exemplifies how the BCIT MAKE+ team can engage interdisciplinary studies to create innovative solutions that work and serve in a complex world."
The resulting sketches, digital models, physical prototypes and documentation generated were exhibited on Thursday, September 28 at Wiivv Wearables.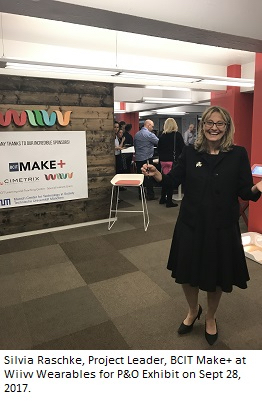 Sponsors, Cimetrix Solutions, and Wiivv Wearables are both Canadian leaders in the 3D printing world with an eye to considering how this technology will help the prosthetics and orthotics sector innovate. Not only did they provide support, but they also had representatives participating in the Makeathon experience, sharing their knowledge and expertise!