Forty-eight municipal delegates toured the BCIT SMART Microgrid on Monday, September 25 as part of a study tour for the 2017 Union of BC Municipalities (UBCM) Convention held at the Vancouver Convention Centre.
The tour began with a journey on an electric bus to BCIT. Here the delegates learned how solar renewables have been integrated into EV charging and how the SMART Microgrid system produces power to building and chargers in the event of a natural disaster.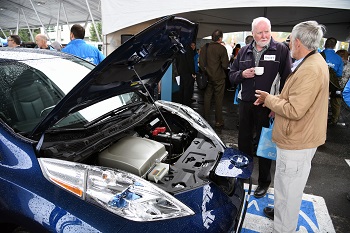 The Vancouver Electric Vehicle Association and the City of Vancouver had EVs on display provided opportunities for the delegates to drive some of these exciting vehicles.
The EV's displayed included a Detroit 1912 Electric Range, Chevrolet BOLT, Nissan Leaf, and of course a few Teslas.
"The Smart Microgrid initiative at BCIT advances the state of practice for Smart Grids on a global scale," said Kim Dotto, BCIT Dean, Applied Research.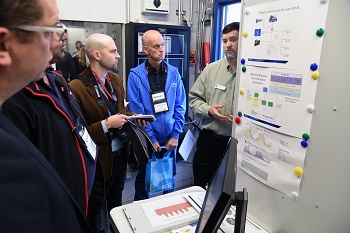 "BCIT's goal is to help municipalities and communities find better solutions to aging infrastructure, move away from diesel to renewable resources and deal with future energy management requirements."
For more photos check out BCIT Flickr