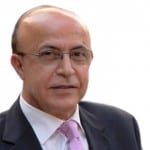 By Gerald Narciso
His company might go by a different handle nowadays, but Awni Ayoubi, PEng, is the same visionary who struck gold several years ago when he co-developed the GlideScope® Video Laryngoscope technology.
The GlideScope® is the sleek and safe video larynscope that Anesthesiologists, EMTs and surgeons all over the world use to get a clear, real time view of the patient's airway. It was created by Ayoubi, Dr. Jack Pacey and their team at Saturn Biomedical Systems – which has since been bought out by Verathon Inc.
Since its commercial launch into the market in late 2001, the sales of the product have been hugely successful. It's being used in over 10,000 hospitals across Canada, the U.S. and globally.
"The rapid medical acceptance provided me personally total satisfaction as it reflected on three areas that I always deploy: 1. integrate capabilities to streamline operation, 2. solicit feedback from users, 3. adopt and relate outcomes to initial objectives and practical implementation," said Ayoubi.
Among those involved in the initial product development were BCIT researchers. In fact, a lot of the research and product development conducted for the GlideScope® took place right here at BCIT in the MAKE+ research group.
"Another satisfying aspect to the venture was the expertise and support we gained from engaging the MAKE+ research group at BCIT," explains Ayoubi. "The department's technical and industrial design expertise in practical solutions to prototyping accelerated our development process and enhanced our ambitious timeline to meet the objectives we established for the venture."
Nowadays, Ayoubi is tied to Rostrum Medical Innovations, a company he co-founded   in 2008. Rostrum focuses on providing medical practitioners with innovative products within the health care industry. He and his new team are also back at BCIT, collaborating with the Product and Process Applied Research Team (PART) in CARI.
"We have been working with Mr. Awni Ayoubi on medical device development projects for about ten years and have had a very mutually beneficial working relationship over the years", says Nancy Paris, Director of MAKE+.
BCIT researchers and students have been involved in several projects over at Rostrum, including the development of an innovative spirometer – a lung diagnostic medical device. Whether it's with the spirometer or something else, Ayoubi envisions Rostrum replicating the same success he enjoyed with the GlideScope®.