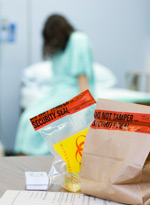 Are you curious about what a forensic nurse does? An interesting article about forensic nursing recently crossed my desk. It elaborates on the responsibilities of a forensic nurse, and how this field has recently emerged in Canada and is starting to expand:
"Their expertise is a blend of medical care, emotional support and criminal evidence collection that is intended to not only look after the physical and mental health of the patient but help police prepare a case against a rapist or violent partner."
BCIT's Centre for Forensic and Security Technology Studies is one of very few programs across Canada to offer a credential in Forensic Health Sciences. In March of 2011, we will be offering a course, FSCT7820, which examines the clinical and forensic science based model of care for forensic assessment and evaluation of patients/victims of trauma, violence and crime across the lifespan. If you're interested in this course, please contact the Program Coordinator, Sheila Early at 604.456.1198.