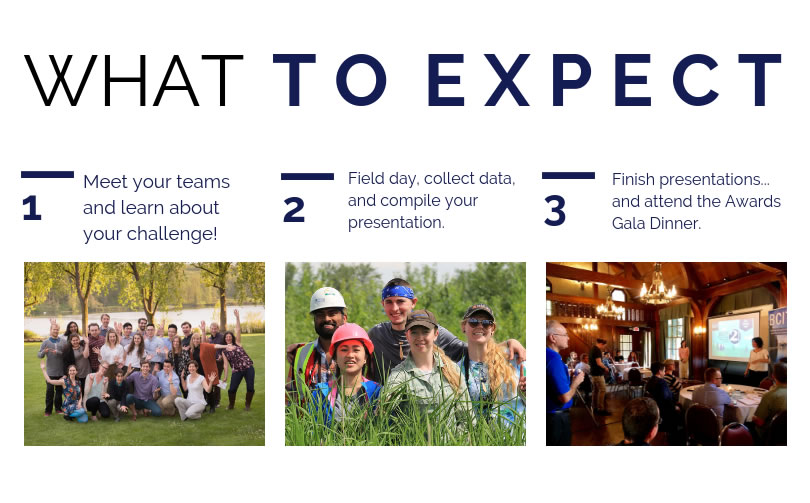 Challenge: In the Making
The School of Construction and the Environment (SoCE) is supporting the 2 Day Challenge, which is now entering its fourth year since its inception in 2016. The inspiration behind the Challenge stems from President Kathy Kinloch's speech at the BCIT 2015 Gala Event:
"It is time for BCIT to be more ambitious.  We already have the educational model that will be needed in the decades to come, but we will need to expand it and shape it in new ways. In the next 50 years, that will be our mission, to bring more of BCIT to the world."   ~Kathy Kinloch, President, BCIT
Dean Wayne Hand generously made funds available to staff and faculty through the Collaborative Student Project initiative.  This initiative strongly supports President Kathy Kinloch's call for BCIT to "be more ambitious;" to take the great educational model that currently exists at BCIT and "expand it and shape it in new ways" with the long term goal of "bringing more of BCIT to the world."
This project leverages the innovative spirit of SoCE students from several programs to build a collaborative and connected network within BCIT and to promote and establish ties with the larger community in the Lower Mainland. The challenge will also present a different kind of educational model: one that is student-centered, rather than instructor-centered.
21st Century Problem Solving
The world is rapidly changing and the digital age has brought new innovations to our work places and economy.  Typically, students will attend lectures where an instructor stands at the front of the class and verbally shares their knowledge and experiences on a given topic. However, studies show that deeper learning is achieved when students collaborate to learn from from each while using digitized and readily-available information. Many employers and educators, including Sugata Mitra, have identified "collaboration" as the hallmark skill to succeed in the information age.
And that is exactly what the 2 Day Challenge is all about.
The 2 Day Challenge is intended to create a learning environment where students apply their own knowledge, while simultaneously identifying what it is they can learn from others, and how they can fill that knowledge gap.
Interdisciplinary collaboration between students promotes innovative solutions to addressing real-world, land-based issues. Students are also given valuable experience in directly engaging with stake holders and First Nation communities. The key is in "how" students approach problems: the ability to collaborate and communicate, think critically and creatively, listen, adapt, innovate, take initiative and lead.