---
COURSE ALERT:
Our "courses-on-the-road" are not currently offered (because of COVID-19).
A suite of fully online courses is now available.
---
In collaboration with the Community Energy Association, we are offering a special 1-day course tailored to busy construction professionals. The course was designed to allow you to enhance your toolbox with the knowledge and skills to build to the BC Energy Step Code (airtight, thermal bridge free, super insulated assemblies) and Passive House standard.


Energy Step Code course – Students working on wall mockup
(photo credit: instructor Josh Vanwyck, JMV Consulting)
.
Course Description
Our lab-in-a-box course will develop knowledge of building assemblies and airtightness to meet the requirements of the Upper Steps of the BC Energy Step Code including the Passive House standard. The course starts with a 2-hour lecture to refresh understanding of building science fundamentals, 6 principles of high performance buildings and the Energy Step Code. Over the course of a day students will apply this knowledge by constructing and evaluating select high performance assemblies based on sample projects. The assemblies selected support a critical comparison of the performance, constructability, and costs of different approaches to meet the thermal performance (TEDI) and airtightness (ACH) metrics of the BC Energy Step Code or the Passive House standard.
The courses' hands-on modules are portable, allowing us to come to you, saving you and your crew precious time.  With some online work associated to a day spent with our instructor, this Energy Step Code course provides you with 20 CDP credits.
Course approved by BC Housing for 20 CDP credits.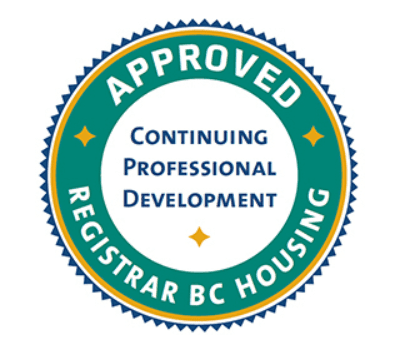 Course Registration
Please visit our registration info page if you are interested in taking this course.