…
Our Fall calendar has now been released!
We wanted to show you why the BCIT Zero Energy Buildings courses are the most dynamic on the market, so we produced this short trailer.
All our courses are currently delivered online (because of COVID-19) with a primary delivery live from the BCIT High Performance Building lab.  Now you can have the best of two worlds; you can learn from the comfort of your home and get a practical learning experience as if you were in the lab with our industry experts / instructors. We only use PowerPoint when absolutely needed!
Thank you to our partners for making it possible to move our courses online (Spring 2020).
Course Options
This Fall we have 5 fully online ZEB courses tailored to busy construction professionals. The courses allow you to enhance your toolbox with the knowledge and skills to build to the BC Energy Step Code. They focus on providing you with hands-on demonstrations and construction problem-solving. This ensures you learn using construction mockups and real project examples. Our courses are delivered by a diverse team of industry expert instructors.

We have designed our courses to help different construction practitioners with understanding the building science and construction details and practices associated with the BC Energy Step Code and the Passive House standard.  This should be of interest to you if you are:
A builder
A sub-trade
An energy advisor
A building official
A designer
And more
All you need to know about ZEBs, the BC Energy Step Code and the Passive House standard for Part 9 buildings, in 4 short courses***:
CESA 1001 – Zero Energy Building Fundamentals ($195) – September 15-29
CESA 1110 – Zero Energy Building Enclosures: Airtightness  ($350) – October 6-13
CESA 1120 – Zero Energy Building Enclosures: Assembly Details ($350) – October 20-27
CESA 1140 – Zero Energy Building Mechanical Systems ($350) – November 10-17
*** You can also take all 4 above courses as a bundle and save 25% on tuition fees:
CESA 1505 – Zero Energy Buildings All-In-One: Fundamentals, Airtightness, Assemblies, and Mechanicals ($995)
This 48-hour course bundle is as close as it gets to our famous CESA 1500 Passive House Tradesperson course (not currently offered because of COVID-19).
We are fully online, but the courses are "almost face-to-face". These are NOT 100% PowerPoint based online courses…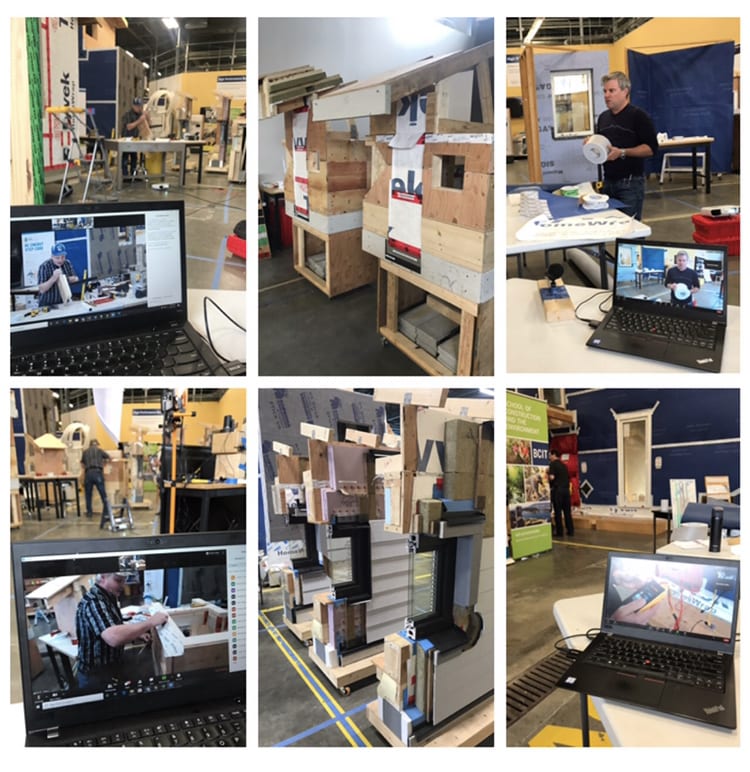 Spring 2020 course offering – Satisfaction survey results are out!
Here is a summary of what our last cohort of students told us about the courses (feedback from CESA 1505, formerly labelled CESA 1005):
95% students satisfied with course overall
90% satisfaction with knowledge gained
100% satisfaction with mock-ups and teaching props used during the course
100% satisfaction with job aids provided with the course package
95% satisfaction with lectures, recaps, and online content
Testimonials:
"I have learnt an incredible amount over the past 10 weeks. You have taken a fledgling high performance enthusiast and given them both wings and more importantly the confidence to fly! The team you assembled were brilliant, each in their own way they conveyed what was important to them and why. Thank you!"
"Really enjoyed the course, well done. Super helpful for me as I plan my step 5 build. If not for being on line I would never have been able to participate."
"This was a really great course, thanks to everyone who put so much time into the innovative delivery!"
"It was nice to have a variety of lecturers with different perspectives."
All BCIT contributors to this course have done an outstanding job! The hard work and effort that is needed to create the material & organization was evident in each section. Thank-you for sharing your knowledge!"
All our courses are approved by BC Housing for CDP credits.