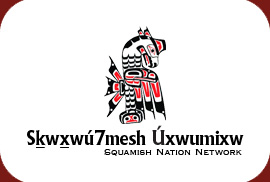 The BCIT School of Construction and the Environment, the Rivers Institute and the Squamish Nation Education Department have embarked on joint delivery of an innovative First Nations Ecological Restoration training program this summer. The course runs from July 8 through to Aug 30, 2013 and is being taught by BCIT Rivers Institute, Sustainable Resource Management and Fish, Wildlife and Recreation instructors, Squamish Nation educators, and several recent graduates of BCIT's Ecological Restoration Program, as well as a professional teacher on contract for guidance on program delivery. Students are attending classes at the Eshlha7an Learning Center in North Vancouver, the BCIT Burnaby campus and the BCIT Wood Lot in Maple Ridge.
The objective of this program is to introduce Squamish Nation students to the theory and practice of ecological restoration, and to train Squamish members to perform this important work long-term. The timing of this program will capitalize on the planned restoration of Tl'alhemá7elkw MacKay Creek estuary in Summer 2013, which is being funded by the City of North Vancouver, Seaspan, Living Rivers and the Habitat Conservation Trust Foundation. In the short term this training program will provide Squamish learners with skills to secure jobs aligned with ecological restoration of their traditional territory. In the long term, this program hopes to inspire Squamish members to secure diplomas and degrees in ecological restoration, and to eventually perform the work required within Squamish Nation Traditional Territory instead of seeing it outsourced to non-Aboriginal entities.
Students who successfully complete this program will receive a BCIT Statement of Completion for the summer program and 9 credits on a BCIT transcript. Students will also receive separate certificates in Chainsaw Safety, Occupational First Aid, and ATV Safety. Students will accumulate 90 hours of field experience and will be able to present their achievements to consultants operating within the Squamish traditional territory to possibly secure other Ecological Restoration work.
Additionally, the curriculum will include unique components such as identifying Squamish language for indigenous flora and fauna as well as knowledge of the area as seen from a Squamish cultural and historical perspective.