Towns and cities around the world are using green roofs and other forms of green infrastructure to adapt to climate change.  Join us on June 6th for World Green Roof Day, a global celebration of the many benefits greenroofs offer people, society and nature!
How can you get involved? Easy! It's a social media campaign, so all you need to do is post an image or video of a green roof, use the hashtags given at the bottom of this post, and expound your favourite thing about green roofs! On behalf of the Vancouver chapter of Green Roof Info Think-Tank, we are pleased to introduce a new hashtag #greenroofsbc.
To whet your appetite, here are two images that Maureen and Christine will contribute.
Below is a photo of Maureen measuring sound absorption on the Vancouver Convention Centre living roof last summer with two of her acoustics graduate students. These field measurements aligned with Maureen's acoustics research, showing that plant communities with varying root structures increase sound absorption. Acoustical ecology is an underspoken but tremendous benefit of green roofs, and one that Dr. Connelly has championed.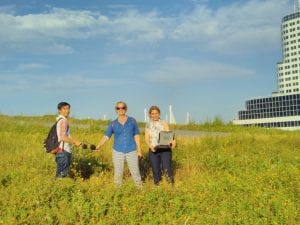 At Metchosin on Vanocuver Island, Christine recently visited one of her favourite green roofs to celebrate #WGRD. This little roof is a microcosm of the local ecosystem, from which plant material was collected directly either as seed or cuttings. Even after 2 years without maintenance, as the video shows, the planting on this wood shed was looking fantastic in early May. The species list is given in the description of the video.
#greenroofsbc, #greenroof, #architecture, #roofing, #greenroofs, #wgrd2020, #wgrd, #worldgreenroofday, #gogreen, #urbanecology, #greeninfrastructure, #biodiversity, #urbandesign, #landscapearchitecture, #landscapedesign, #greenspace, @GRIT, @GRFHCNA, @wgrd2020, @worldgreenroofs