Towns and cities globally are "going green" to adapt to climate change. Green roofs provide vital wildlife habitat, improve the built environment, and make life better for everyone. World Green Roof Day is a celebration of green roofs all over the world and the many benefits they bring to people and nature. What a great way to connect with our global village of green roof fans, if via social media!
Here at BCIT, we got fully involved in the actions around the second annual World Green Roof Day 2021.  Firstly, we were chuffed that the WGRD homepage featured not only the Vancouver Convention Centre living roof, but also members of the Green Roof Info Think-Tank (GRiT)! That image was from a (pre-covid) excursion in 2019, for which a good number of us got together to visit the living roof and socialize. It was an honour to have our community featured for this global day of green roof celebration.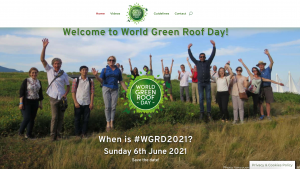 On behalf of the Centre for Architectural Ecology, Maureen and Christine got in the green roof spirit and created some short videos (see below). Using the hashtags, we are pleased to have contributed to the algorithmic potency of this event. Just go to any social media site and enter #WGRD2021, and you will see what we mean (e.g., LinkedIn). Our friend and the co-founder of WGRD2021, Dusty Gedge, skilfully curated the full solar day of World Green Roof Day from sunrise in New Zealand to sunset in Hawai'i. It was really fun and quite playful. Kudos to Dusty and the other co-founder, Chris Bridgman.
Christine prepared a video in advance of the day, while visiting the Convention Centre living roof. Ever the plant ecologist, she points out and celebrates the species richness of this massive roofscape. Check out her video about the value of green roofs for biodiversity.
Maureen's video was taken on the roof platform, the Elevated Lab, on BCIT campus, and she shares an overview of her findings there and explains how living architecture functions acoustically. Check out Maureen's video exploring acoustics and sound quality  and green roofs.
#WGRD2021 #greenroofs, #sustainability #technology #environment #climatechange #climatejustice #greeninfrastructure