The Centre was established in 2003 with the construction of a dedicated research facility at the Great Northern Way campus. As part of its polytechnic stream, the Centre's mandate is applied research and education. The Centre also works with industry for direction on education and policy mechanisms, and conducts third party testing of industry products to help optimize system designs according to the local climate.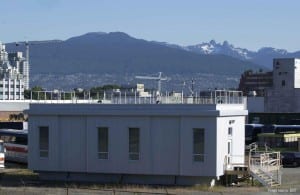 The first phase of research (2002-2007) produced results describing the effects of stormwater mitigation and thermal efficiency by extensive green roofs in the climate of coastal B.C. In addition to the Green Roof Research Facility, a regional infrastructure network evaluates performance green roof performance in other parts of the province. The next phase of research (2007 – 2010) expanded to include native plants on the Elevated Research Platform, living walls, and acoustical characterization of living architecture.
The Centre for Architectural Ecology supports the academic, design, and construction communities to understand architectural and building acoustics and advance living architecture technologies in this region. BCIT students (building science, architecture, environmental science, engineering technology and trades programs), as well as students from regional universities and other institutes, are involved in various research projects here based on their area of study.  The green roof courses are very popular among practicing professionals and qualify for learning units by the Architectural Institute of B.C., the B.C. Society of Landscape Architects, and the Planning Institute of B.C.
Currently our head office is located at the address listed below; it is a beautiful old shingles building with great natural lighting and exposed wooden high ceilings.  We have three different indoor living wall systems under research, an indoor air quality chamber, an anechoic chamber, and state of the art acoustical testing apparatus.
Mailing Address
Centre for Architectural Ecology
NE3 – 3700 Willingdon Ave.,
Burnaby, BC V5G 3H2