Since the inception of its green roof research program in 2002, BCIT has created an integrated research team from various disciplines (architecture, acoustics, building envelope science, engineering, landscape architecture, planning, horticulture, ecology, and land-use planning). In addition to research and faculty tasks, the team members all contribute to the Centre's educational programs. The Centre's research team includes:
Faculty
Maureen Connelly, BSc., BEDS., MArch., PhD.
Director, Faculty, Centre for Architectural Ecology
Faculty, Building Science Graduate Program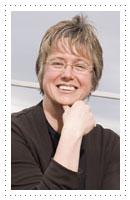 Combining a science background with a professional affiliation as an architect, Maureen Connelly founded the Centre of Architectural Ecology at BCIT.  She also developed the vision, oversaw the construction and the instrumentation of the BCIT green roof research facility in 2002.  Maureen's initial research focused on the architectural and planning impact of greenroofs, which led to the Phase 1 research program [PDF 2.5MB] on stormwater and thermal performance. Maureen developed the first credited course on green roofs in Canada.
Current research focus is on architectural acoustics with a specific focus on living architecture.  Research subjects she currently leads includes: urban acoustics, outdoor sound propagation, building envelop noise control and sound transmission, acoustical building materials, quantification of the acoustical capacity of living architecture to reduce sound transmission through buildings, reduction of noise build up in urban areas, and enhancement of personal and shared soundscapes.  Current course delivery includes BSCI 9060 Advanced Acoustics (graduate level course) and BSCI 7200 Acoustical Science and Ecology.  Maureen is currently leading an initiative on soundscape and acoustical integration into whole building performance.
Maureen continues to direct the strategic research and planning process at the BCIT Centre for Architectural Ecology.  Maureen received the BCIT Applied Research Award for outstanding contribution to the advancement of knowledge, and of economic and societal well-being through the application and implementation of new technology accepted the Canadian Institute of Energy 2010 Research and Development award on behalf of the Centre, and most recently the Green Roof and Wall Research Award of Excellence from Green Roofs for Healthy Cities.
Link: Publications by Maureen Connelly
Staff
Rosa Lin, BA Arch., MASc.
Research Analyst

Rosa Lin is the first graduate of BCIT's MASc. Building Science program.  She focused her Master's thesis research on architectural and urban acoustics, specifically as it relates to Vancouver's very own residential laneways and laneway housing and increasing urban density effects on residential noise exposure levels.
Rosa graduated from the University of California at Berkeley in Architecture, with a minor in Urban and Regional Planning.  Her career spanned many different industries, from law and real estate development to internet media and technology.  Combining her resourcefulness, entrepreneurial spirit, and wide range of international and multidisciplinary career experiences, Rosa is an avid supporter of the Centre's research and educational goals.  Her current work at BCIT includes ongoing research, graduate acoustics and building science projects, industry contribution through academic publications, international exchange and collaboration projects, laboratory operations, sustainable projects on-campus, and infrastructural development.  See her interview for Building Science Grad Interview and for Women in Engineering Week 2015.
Sessional Faculty
Goya Ngan, MBCSLA, CSLA
Goya Ngan is a registered landscape architect. Since completing her degree at UBC in 1992, she has practiced in Vancouver, Germany and Saskatoon. She has been around green roofs her entire life, having grown up under one, later worked on several green roof projects and then began research in this area while living in Germany. Results of this research are found in the GVRD Stormwater Source Control Guidelines and in a 2004 report for LACF entitled Green Roof Policies: Tools for Encouraging Sustainable Design. Later, Goya designed a green roof for the College of Law at the University of Saskatchewan in Saskatoon. She followed that with three years of vegetation monitoring to learn more about the plants suitable for cold-climate green roofs. Goya takes a broad view in her approach to green roof design. In Germany, she worked on large-scale green roofs that use advanced modern technologies to meet stringent performance goals. Meanwhile, she appreciates how low-tech green roofs can be used to meet certain needs, such as rural applications.
Nicolas Rousseau, B.Sc., M.Sc-eng., Horticulture Engineer
President of By Nature Design Inc.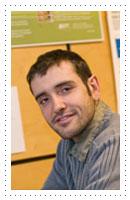 Nicolas is a horticulture engineer from France with a background in plant physiology. His "green building" specialisation started in Paris in 2007 by completing two projects concerning the brand new living wall technology. These experiences were focused on designing a new system and choosing the best suited plants. This first step in the green industry led him to complete his final engineering internship through his master's degree at the Centre for Architectural Ecology at British Columbia Institute of Technology. He worked on studying the plant evolution, in terms of coverage and composition, on the green roofs present in BC. This study gave the opportunity to acquire the first solid data concerning the comportment of this kind of roof in their real environment. He joined BCIT's School of Construction and the Environment in January 2009, starting with the development of the new "Elevated Research Project" based on BCIT's campus and mainly focusing on the different plant aspects.
Master Degree Students
Mahsa Akbernajad, B. Arch, MASc. Candidate
Mahsa Akbernajad has background in Architecture.  She has completed coursework in the Master of Building Science program, and is currently working on her thesis, researching the acoustical characteristics of interior living walls, including the scattering and the absorption coefficients for different types of green walls in different conditions.
Ivan Cheung, B.MS, B. HS
Ivan Cheung completed his Bachelor of Medical Science and Bachelor of Health Science at Western University in London, Ontario, and is currently a student in the Master's of Science in Occupational and Environmental Hygiene at the University of British Columbia in Vancouver, BC.  Cooperating with the Centre, Ivan is examining the indoor air quality impacts from indoor living walls.  In a controlled setting, Ivan hopes to represent the building environments that rely on natural ventilation. Ivan is examining six factors to allow those who wish to incorporate indoor living walls into their building design to account for the positive and negative air quality impacts to create more sustainable buildings in the future.
Daver Bobolan, B. Eng, MEng. Candidate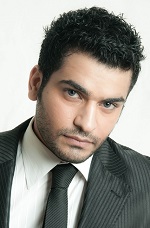 Daver Bolbolan was born in Quetta, Pakistan amidst political, cultural and geographical chaos and turmoil, but through sheer determination and passion for his chosen field of study, he graduated from Sir Syed University of Engineering and Technology, Karachi Pakistan as a Civil Engineer and went on to work for two years in UAE as Site Engineer before immigrating to Vancouver Canada.
Presently he is a student in the Master of Engineering Program in Building Science at British Columbia Institute of Technology.  His research project focuses on development of a scaled method for testing scattering coefficients inside BCIT's reverberation chamber.  In this study, he compares two scaled-model ( ½ & 1/3) measurements for scattering coefficients of various materials and later, will compare the results with real-scale measurements.  This His research work involves investigation of scattering coefficients and developing acoustical test methods inside smaller reverberant chamber facility.
Sepideh Daneshpanah, B. Arch, MASc. Student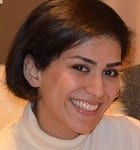 Sepideh Daneshpanah holds a Bachelor of Architecture and a Diploma of Architectural and Building Engineering Technology from BCIT, and has worked in the fields of Architecture and Interior Design.  She is currently a Master of Applied Science in Building Science student here at BCIT and will complete her coursework in April 2015.   Sepideh's course project in Advanced Acoustics (BSCI 9060 with Dr. Connelly) was "Scale Modeling in the Anechoic Chamber," in which she validated the anechoic chamber at the Centre for Architectural Ecology by scale modeling at three different frequencies.  Sepideh's master's research thesis will be on "Field Monitoring for the Development of Indoor Environmental Quality Model on the Effect of Interior Vegetated Walls."
Affiliated Research Groups at BCIT
CONTACT US
Mailing Address:
British Columbia Institute of Technology
Centre for Architectural Ecology
NE3 – 3700 Willingdon Ave
Burnaby, B.C., V5G 3H2
T:   604-432-8448 (General inquiry line)
604-456-8045 (Dr. Connelly)
604-454-2228 (Research staff)
E:  Please go to the Team page and click on the name of the person you wish to contact.
Print a copy of our neighbouring street and campus maps [PDF].  WE ARE AT NE3, between NE1 and NE9.
For more information on our courses contact: 604-456-1007.