The Vancouver Green Roof Info Think-Tank (GRit) met for a tour of the Convention Centre (VCC) on July 22nd. It was a great opportunity to visit this iconic and superlative roof, as it is not generally accessible. Two big accolades of the VCC green roof include largest non-industrial green roof in North America, and the first convention centre to earn LEED Platinum, the highest ranking for green buildings. It was planted in 2009 with 350,000 plants, all native to coastal BC. In order to qualify for the green building credits, the plants were grown in peat-free compost.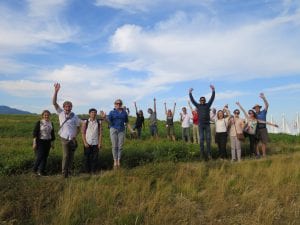 The photo reveals the elevated states of some of our members, who are able to levitate on command! Kudos to Maureen and Shailesh for best sustained jumps!
GRiT is a network comprised of industry, government agencies, non-profit organizations, researchers and community members. It started in Portland Oregon, and has become a Cascadia-wide network of green roof enthusiasts. The aim of GRiT is to expand the knowledge base of this multi-functional technology, and promote its implementation in the Pacific NW. If you want to get involved, send an email to cthuring@bcit.ca.