A picture is worth a thousand words, and this photo answers one frequently asked question about extensive green roofs.
The question, simply put: "What about trees?" Can trees be planted on extensive green roofs? What is to be done about colonizing trees, shrubs, or other woody species?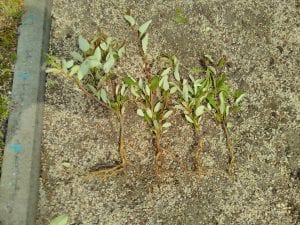 Well, extensive green roofs are defined by shallow, free-draining substrate. This specification has a regulating effect on the species composition, as the soil and environmental conditions will weed out any colonizers that are not equipped to survive. Shallow soil is a limiting factor on species selection and long-term composition on extensive green roofs. Add to that the complete absence of shade or protection from the wind and a scorching sun, not to mention snow, crows, rain, hail, etc. and your species composition becomes limited to a plants with strategies for stress tolerance and regenerative survival.
In the case of the willow seedlings above, which grew quite quickly this spring, it is questionable how much longer they would have survived on the Elevated Lab. Notice how the roots, particularly the specimen on the left, are strongly defined by the substrate depth. Even if they had escaped the hand of maintenance, these trees would not likely grow much bigger. Unlike a cliff or mountain, where woody plants can cling to life and even grow quite old, a green roof is a thoroughly sealed system, like a shallow container, that does not offer any additional resources to plants that might otherwise exploit fissures and cracks in the bedrock.