At BCIT Burnaby campus, dawn and dusk feature the regionally phenomenal 'crow hour'. It's like a sociable happy hour, for crows. Thousands of birds descend onto the campus grounds in a dynamic flux of movement and noise, their large numbers covering every surface: parking lots, trees, lawns, power lines, roofs. When they arrive to Burnaby in the evening, the arrival is like a watershed of birds that seems to have no end. The source/ destination of this watershed is the roost at Still Creek, near Willingdon just north of Hwy 1. And when the birds leave in the morning, the west-bound flow gradually splinters from this source into small tributaries, or clans, and eventually into small family groups, who then spend the day together at their preferred locations on the coast before heading back to the communal roost for the night.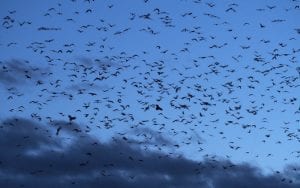 Being an urban ecologist, and a designer of green roofs for biodiversity, or living roofs, I have been challenged by these birds. This blog post explores my experiences with the Burnaby crows with relation to my work at the Centre for Architectural Ecology. It also serves as a precursor to an essay I've been invited to write for The Nature of Cities (a collective blog for trans- disciplinary dialogue on 'cities as ecosystems'). It seems most discussion about birds in the city refers predominantly to desirable birds, which we want to encourage more of. By contrast, discussion about 'nuisance' birds that cause us grief is relegated to commercial enterprises specialised in keeping them at bay.
The Challenge
Over two glorious days in November, a crew of volunteers helped to plant BCIT's newest green roof experiment on the Elevated Lab. Following a pre-randomised experimental design, 4,800 plugs and bulbs were planted into designated spaces across 240 plots of 1m2 each. It was a lot of work to ensure that the plants were placed as specified by the design. We finished at dusk on the second day, and I was ecstatic.
My blissful state of accomplishment was soon replaced by despair, however, as the crows undid our work each day. I was on the roof a couple hours every week, re-planting the damage. I had hoped for the best, but now realised how meagre "hope" can be in face of the reality. I had actually toyed with getting some form of bird protection in the months prior. We hadn't budgeted for this, however, and I don't like bird netting, which seemed like the only option.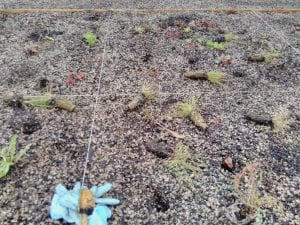 The challenge was not in the re-planting (however upsetting that was). Rather, it was in the experience of coming up against the limit of the feel-good narrative about green roofs and urban ecology. On the one hand, I would say that "green roofs provide habitat for insects and birds" but now with the exclusion clause: "except for crows". I was confronted with a major flaw in my narrative, and one that felt hypocritical and skewed. What to do?
The Outcome
With some reflection and discussion, the issue became clear. I want the plants on the roof to establish successfully. I also want to regard the crows with admiration and affection, not with anxiety and loathing. That meant that something had to be done about the birds, particularly during the establishment period. Dave Harper helped me set up a wildlife camera to determine with certainty who the culprits were, and what their patterns were. Following this and other conversations with colleagues from the BCIT Rivers Institute and the Ecological Restoration program, as well as the green roof industry, I investigated more seriously into the range of available bird deterrent systems. Crows are highly intelligent, and can figure something out in a matter of days, which is why scarecrows don't work.
Before the holidays, we decided to invest in a multi-sensory system of random lasers and a sound system. The lasers are similar to what many people installed around their homes for the Christmas period. Apparently birds have a strong aversion to such lights. The sound system features a number of bird calls that make birds uneasy. The sounds selected include the call of a predatory bird (peregrine falcon) and distress calls by raven and crow. Taken together, this multi-sensory system should make this area of BCIT campus less attractive for birds. Keep your ears open if you are on Smith St. between the hours of 7-9:00, 13-13:30, or 15-17:00. Depending on the random allocation of calls during these time-frames, you may hear the piercing call of a peregrine falcon, or the distress calls of ravens and crows. If you hear these calls, look around and observe the responses of whatever birds are around. 
Since the system was set up, on December 19, I'm pleased to say that bird damage has been minimal to nothing 

This has been a neat test of co-existence, and a poignant opportunity to explore respect for self and other (i.e., respect for the project and for my well-being, and respect for the birds). It was also fascinating from a philosophical and professional perspective. I feel as though I've touched a fault in the bedrock between biophilia and biophobia. Whereas biophilia ('love of life') is a popular meme for urban and ecological design, rarely is biophobia addressed. Perhaps it's easier to pretend the rats and other 'undesirables' don't exist. This experience posed a reality check on the consistency of my narrative with regards to urban wildlife and green roof ecology, and I'm grateful to the crows for showing me up.