Last month, BCIT's Forensic Health Sciences program was pleased to host a delegation from a sexual assault centre in Vestfold County, Norway. This is the only centre in Norway utilizing forensic nursing services. However, there is no systematic higher academic education in the field of forensic health sciences in the country.
Linda Molgaard Gustavsen, a forensic nurse, and Ole Henrik Augestad, the medical director from the centre, traveled to BCIT to observe our process of educating forensic nurses and to understand the role of forensic nurse examiners in Canada.
The delegation sat in on a class on the Burnaby campus. Forensic Nurse Examiner, Aimee Falkenberg of Nanaimo General Hospital, led the instruction of fourteen nurses in a course which is part of the Graduate Certificate in Forensic Health Sciences at BCIT.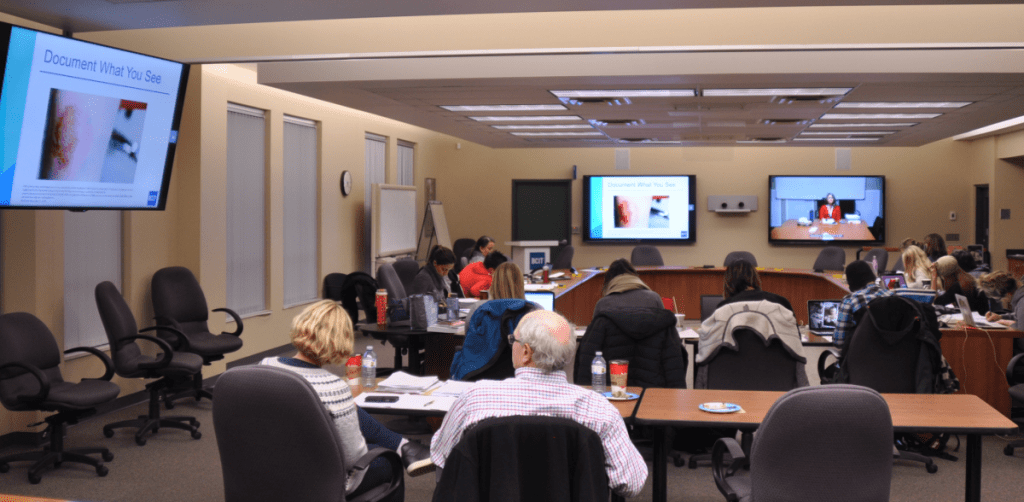 After observing two days of instruction and discussing forensic nursing curriculum and development with Program Coordinator Colin Harris, the delegation toured Forensic Nursing Services at Abbotsford Regional Hospital and Surrey Memorial Hospital in the Fraser Health Authority, and Victoria General Hospital on Vancouver Island.
With a first-hand look at how forensic nurse examiners educated at BCIT provide services in BC, Linda stated "as a Norwegian forensic nurse, it was like coming home to meet the skilled coordinators who manage the different programs. It became clear to me that Norway needs a comparable education program for forensic nurses."