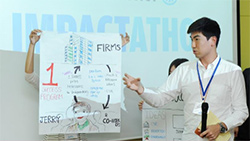 SAP and Net Impact Impactathon
Help solve issues around the globe and learn to solve problems using design thinking in one action-packed day.
The global series of Impactathon events helps generate solutions to prepare young people to succeed in the workplace of the future.
"I met so many interesting people and the event was all around fun! It was refreshing to really tackle an important issue that many young people struggle with today." – Kara Korab, Paris Impactathon
These lively, one-day design challenges encourage teams to come up with creative solutions to a local social issue while following a guided process in design thinking. From promoting entrepreneurship in emerging markets to helping people get the skills they need for the workforce, each event calls on students to solve a challenge facing a local NGO or social enterprise.
We're looking for the best and brightest to put their heads and creativity to the test! No prior experience is necessary – and it's free.
Friday, March 27, 2015
09:00 – 18:30
BCIT Downtown Campus, 555 Seymour Street
Vancouver
Five reasons to join an Impactathon
As part of the event, you will:
Work closely with passionate students who care about social impact
Learn and apply design thinking principles to a social issue
Get first access to SAP jobs and internships
Hone creativity, teamwork, and communication skills
Network directly with SAP employees
Teams will be assigned the day of the Impactathon and given unique opportunities to connect over meals, energizer breaks, and collaborative activities.
Visit the Impactathon website to register by March 16th.