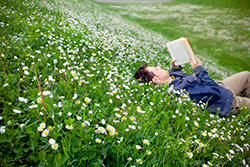 On a super rainy day like today, it has to be nice to think about spring, right?
I recently uploaded our Spring term 2015 course schedule to our website, so you can use it to plan your course load for April – August 2015. BCIT has updated the way it displays courses online, hopefully making it easier for you guys to find and enroll in them.
Some important dates to remember:
February 13th – Web preview (You can see the Winter 2015 courses online, but can't register for them yet)
February 15th – Web registration opens (You can start registering online)
February 16th – General registration opens (You can now register by any method)
So go ahead and plan for your next semester and get ready to register before important courses fill up!