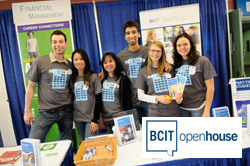 BCIT's Open House is fast approaching, and our fine institute is looking for students to volunteer at this event.
By becoming a general volunteer, you'll be getting involved with student life at BCIT and building volunteer experience for your resume. Volunteer opportunities include:
Welcome Centre staff
Tour guides
Set-up crew
Information booth staff
Bus hoppers
Greeters
This is BCIT's largest event, with expected attendance to exceed 20,000 people April 13 and 14, 2012. For more information about Open House, please visit the website. To volunteer, contact Sepehr Vafadary, Student Leader for Volunteers, by email or by phone at 604.456.1090.