Lately around Evolution, there's been a communal appreciation for cute celeb couples.
Okay, maybe it's just Syd and I swooning over the same couple, but it inspired some part of me, and got me wondering, who are your favourite celeb couples?
I decided to wander around the radio building, and ask some fellow students and profs who their favs were. I got varying answers – from Sportscasters, YouTubers, musicians, to film stars – anything. Some couples weren't the traditional thing you would imagine (see: Todd's answer).
Now, I know some of these are jokes, but I couldn't help it. I just had to include them.
Breton's favourites:
Kanye West and Kanye West:
Neil Patrick Harris and David Burtka:
Samira Wiley and Lauren Morelli:
Mckenna's fav:
Jenna Mourey (Marbles) and Julien Solomita:
James' favourites:
Zayn Malik and Gigi Hadid:
Blake Shelton and Gwen Stefani:
Miley Cyrus and Liam Hemsworth:
Syd's favs:
Paul Klein and Dua Lipa:
Ryan Reynolds and Blake Lively:
Andrew's fav:
Obama and Biden:
Liam's Fav:
Key and Peele:
Nick's fav:
Jay and Dan:
Sadie's fav:
Danny Devito and Rhea Perman
Autumn's favs:
Dan and Phil:
Will Smith and Jada Pinkett Smith:
Tina Fey and Amy Poehler:
Jimmy Fallon and Justin Timberlake:
Brian's fav:
Tamra Davis and Mike D:
Todd's favs:
Crosby and Concussions:
Cheech and Chong:
Kirk's fav:
Himself and James Bryce:
"I mean, I'm out here to steal your boy." (I know it definitely looks like James is actually the one stealing Kirk away though).
As for myself, like Syd, I appreciate how adorable Dua Lipa and Paul Klein are together. They've had me swooning over the past few months.
LANY just came through Vancouver on Nov. 9, playing the Vogue Theatre, and they just finished off their tour in Calgary. Right after, Paul flew ALL THE WAY to Argentina to be with Dua! If that isn't love, I don't know what is.
I mean, just look at how cute they are together!?
Dua's coming to Vancouver to play the Vogue as well, next year on February 16th.
As for my other favs, the constant back and forth with Madeon and Porter Robinson has me, shook as my pal Andrew might say.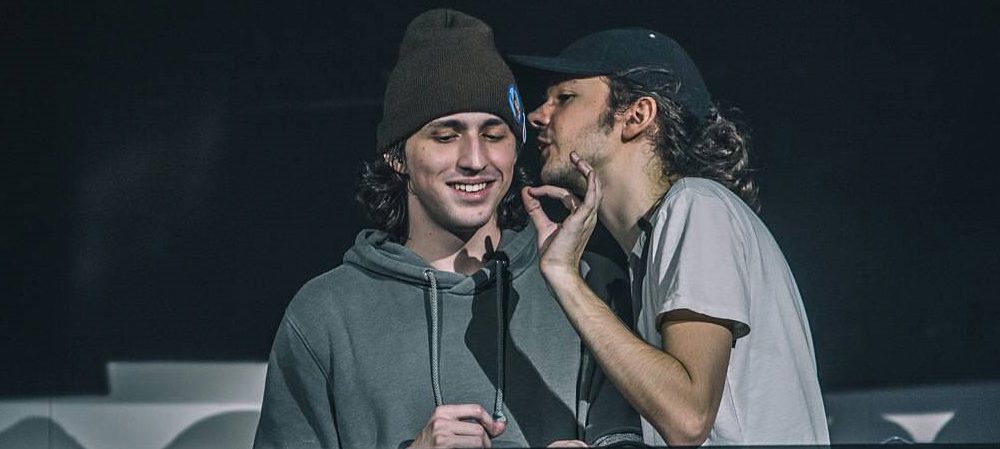 Okay, I know! They're not really together, but can I get an Amen on bringing back the "Shelter Live Tour" 2.0? That tour was one of the most beautiful things I've ever experienced. I mean, just look at these visuals.
So, I guess maybe this isn't so much a "celeb couples" list, but a list of people, and maybe some problems (like concussions), that seem to love each other. No harm done in a bit of love, whether that's on a level of self-love, romantic love, or platonic love… or in some cases just unfortunate reoccurance (see: concussions, again).
Do you have any combos that you just can't get enough of? Silly or not? Cute or stupid? Romantic or friendly?
I want to hear what you think, so shoot me a tweet: @alexisdayfoot
Or, shoot evolution one: @evolution1079