Furry friends are the best kind of friends. For hundreds of years or many even more, pets have been an essential aspect of an individual's life. There are multiple health benefits to having a little furry friend in your life. Pets are a great way to help manage loneliness by reducing stress in our lives. Less stress means better overall mental health. Speaking from personal experience, having a pet makes your life significantly better. Not only are our four-legged friends help us by allowing us to gain a sense of responsibility, but they also show us unconditional love and support. So if you're experiencing a little bit of stress, I highly recommend you give some head pats to the furry friends in your life. However, pets can be extremely expensive and unfortunately, not everyone can afford to have them, luckily, there are a few places in Vancouver that will let you enjoy the company of very cute animals. Vancouver is unfortunately not like Japan where they have multiple animal cafes, such as a dog and cat cafe, hedgehogs cafe, and even a river otter cafe. Luckily, Vancouver is slowly following that trend and there are some animal cafes you can visit.
Who doesn't love cats and coffee? Located in the International Village Mall on Pender street, Catfe is a coffee shop that features feline-theme drinks and treats. Catfe is the first animal cafe to open in Vancouver. The cafe is partnered with various animal rescues and their goal is to help rescue cats from all over Canada find their furever homes. Catfe also acts as a temporary foster home for rescue cats as well as has a space where cat lovers can visit when they require some animal therapy. Not only will you be able to book appointments online to go hang out with these adorable cats, but you are also supporting the cafe and its rescue mission. All the proceed made from Catfe go back to them for food, litter, transportation, bedding and toys for their furry residents. In addition, if the cats are draining some of your energy, you can order drinks to bring your mood back up. My coffee addiction is pretty bad but it's even worse if the drinks have cute names. Who wouldn't want an "Ameowicano" or "Catpuccino"? Don't even get me started on the sweets, "meowcaron", "cat nom", and "cat cupcake". Who can resist these cute names? Having coffee in your hand with a cat on your lap sounds like a pretty awesome deal if you ask me.
Catfe also has a sister cafe! The creators of Vancouver's first Catfe also opened up a sister cafe with rabbits. So let me introduce you to The Bunny Cafe, located on Venables street, this cafe was opened during the midst of the pandemic in July 2021. Just like Catfe, this little bunny cafe also has drinks to can sip on while these little critters hop around you. This cafe is an all-vegan cafe, so you have snacks on treats as well. Just like all the animal cafes in Vancouver, you can book appointments to visit these furry friends, and even adopt them if you wish to. If you do book a reservation, you would have an hour to spend time with the hoppers and give them lots of treats and greens such as kale, cilantro, and apples! And of course, you can give them as many head pats as your desire. Trust me, speaking on behalf of the little hoppers, the bunnies won't mind unlimited head pats and treats all day. The owner of Catfe, Michelle Furbacher, created this cafe to demonstrate how rabbits can make excellent pets and to help these bunnies find their furever home.
"There are so many abandoned domestic rabbits in BC, they need to be adopted out in colonies to really make a difference. People can see what a joy it is to be surrounded by sweet, curious bunnies."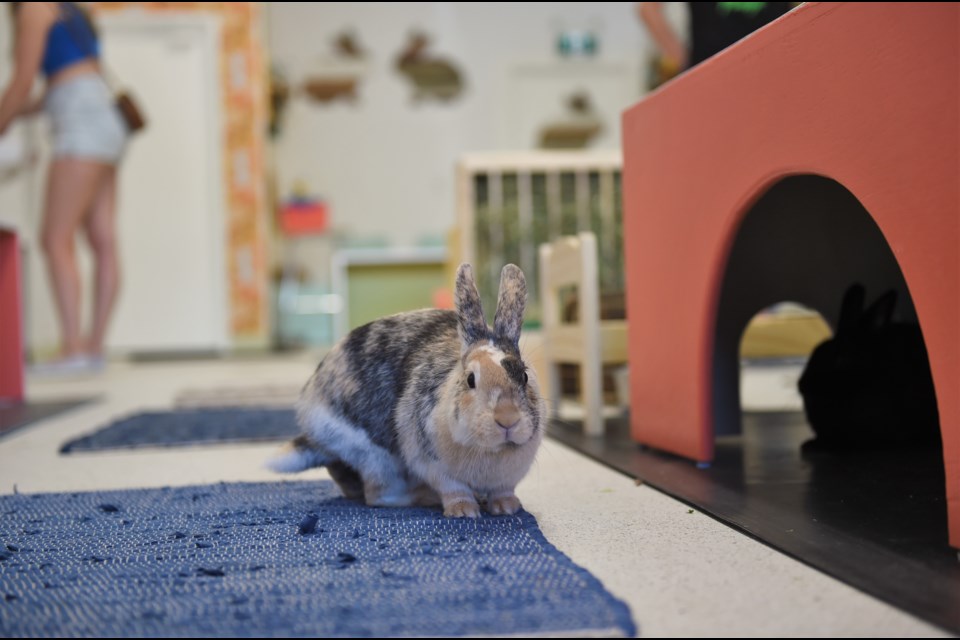 Last but not least, introducing Catoro Cafe, located on Fraser and Broadway, this is another place where you can give more head pats! Catoro Cafe is different in the way that instead of serving caffeinated drinks, they offer a wide selection of bubble tea. Maybe, I'm a little biased but watching the cats lounge around and play with each other while you wait for your drink order is pretty entertaining. Similar to other animal cafes, you have to book an appointment in advance to visit the cafe. Catoro has had over 48,000 kitty therapy sessions and over 800 cats have been adopted from the cafe. In addition, the cafe also offers pet supplies that you can pick up as a gift or for your little kitty at home. As I previously mentioned, I am a sucker for food and drinks with cute names. I also have a bubble tea addiction and let me tell you that Catoro Cafe's drinks are pretty delicious. My orders are usually the "Catoro Milk Tea", "The Foggy Cat" (London Fog), and the "Purr-over Coffee". Who can resist the adorableness that is this cat cafe and the names of these bubble tea?
Not sure about you but I'm going to be booking reservations at these places again. I believe that animal therapy is the best therapy out there. Sometimes you don't necessarily need to sit down and talk to someone. Sometimes you just need a four-legged friend next to you. Studies have shown that petting animals cause your brain to release endorphins. Therefore, if you are ever feeling stressed, anxious, or depressed, you should see if you can pet the furry friends that you have in your life. Trust me, a few hand pats and some kisses will definitely improve your day.