Rejoice everyone, the NFL is back. Week 1 has come and gone, and there was tons of excitement from Thursday's opening night game, all the way to the chaos that ensued on Monday night between the Raiders and Ravens. Now before we discuss some games, lets talk about some key takeaways that came from week 1.
TJ Watt is worth and has earned every penny
Every team has defensive monsters that have the ability to disrupt any play and change the pace of a game at will. The Pittsburgh Steelers are blessed to have multiple, and leading the way is TJ Watt. Going into week 1 vs Buffalo, Watt had just signed a 4-year $112 million dollar extension, and back it up in a huge way. Watt was responsible for 5 of the Steelers 8 quarterback hits and was a huge part in the Steelers week 1 victory 23-16. The revived Steelers defense is in good hands with Mr. Watt.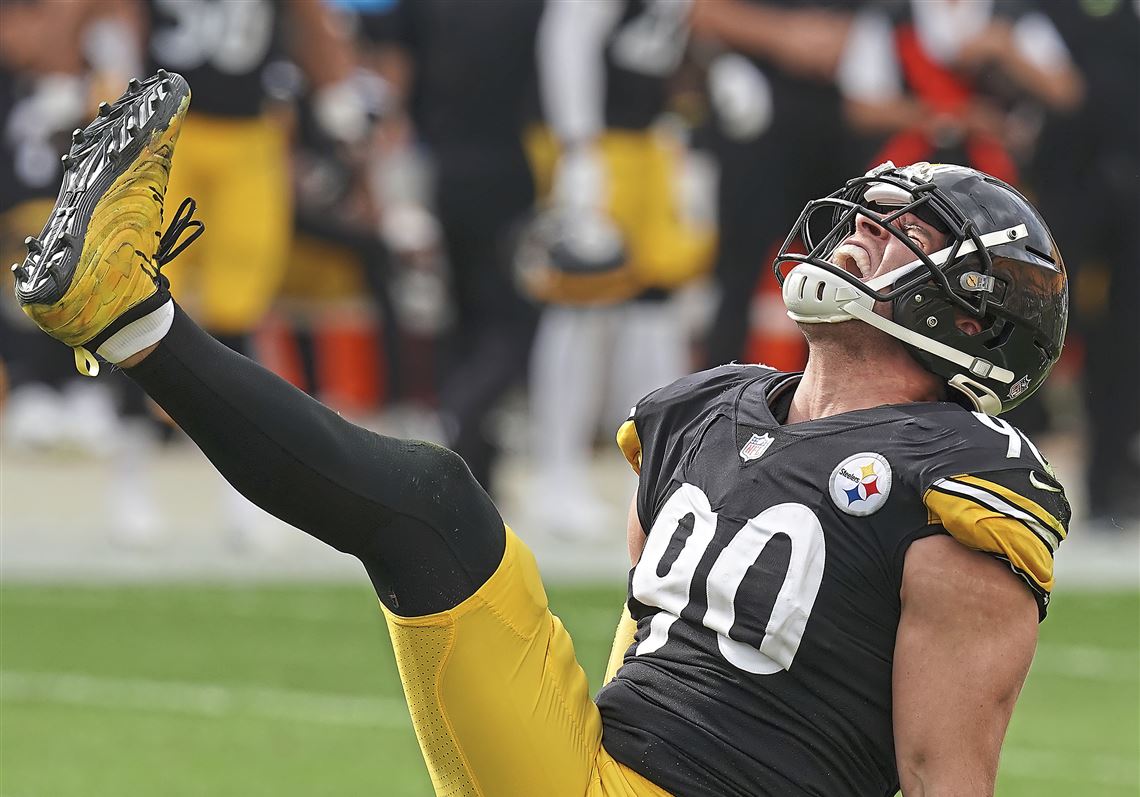 (Peter Diana/Post-Gazette)
Was the Saints domination of the Packers that big of a shock?
From the start of this game, until the moment reigning league MVP Aaron Rodgers was pulled, things were ugly. Was it really that big of a shock? To me, it wasn't. This offseason saw a situation between star QB, and the front office turn toxic. While Rodgers did make his way to camp and get ready for the season, you can tell things were not what they usually are like in Green Bay.
On the other hand, the New Orleans Saints prepared for life without Drew Brees. That started with former first overall pick Jameis Winston taking over from the Saints legend. Boy oh Boy was he prepared. Winston outperformed, and outplayed the disgruntled, and uninterested reigning MVP. While he didn't need to throw the ball too much, his efficiency was off the charts going 14 for 20 for 148 yards, tossing 5 touchdowns and throwing 0 interceptions. A big change from the QB who once threw 30 touchdowns and 30 interceptions in one season.  I see more frustrating times coming for Green Bay and their QB.
Russell Wilson is still MVP Caliber 
While I am not a Seahawks fan, and not the biggest fan of Russ, the man balled out on Sunday, and looks to be in MVP form. During this off season it looked like the marriage between Wilson and the Seahawks was over, the Bears thought the deal was done. That wasn't the case, and Wilson stayed put. Wilson and the Hawks went down to Indianapolis to play the Colts and looked to be in mid-season form. Wilson looked to be a super early favourite for MVP, going 18 for 23, throwing for 254 yards with 4 touchdowns and no interception, and a passer rating of 152.3. The biggest play of the day being Wilsons 69-yard touchdown pass to Tyler Lockett, a beautiful play, that should be appreciated by fans and nonfans of Russ and the Hawks.
LOCKETT'S GOT IT! 🚀🚀🚀🚀🚀@DangeRussWilson fires away to @TDLockett12 for six more!

📺: #SEAvsIND on FOX pic.twitter.com/k0w73tFqhh

— Seattle Seahawks (@Seahawks) September 12, 2021
(Twitter/@Seahawks)
Now let's get into some of the games.
Buccaneers 31 Cowboys 29
Now I thought this game was going to either be a huge blowout or a super close game like it ended up being. The Tampa Bay Buccaneers celebrated their Superbowl victory in an exciting way. A back-and-forth affair which saw Tom Brady go 32 of 50, passing for 379 yard and tossing 4 touchdowns. Tight End Rob Gronkowski had a big day with 8 receptions for 90 yards and 2 touchdowns, while receiver Antonio Brown had 5 receptions for 121 yards and a touchdown. Kicker Ryan Succop secured the victory with a 36-yard field goal with 2 seconds left in the game. With the literally the entire championship team returning, look for the Bucs to be the favourites to win again, and repeat as champs.
Chiefs 33 Browns 29
Did anyone think the Chiefs wouldn't make a comeback and win the game? I was one of those people. It looked like Baker Mayfield and the Cleveland Browns had the Chiefs number on Sunday, but right on que QB Patrick Mahomes led a wicked comeback, highlighted by a wicked crossbody dart to Tyreek Hill for a touchdown. Tight End, Travis Kelce had a slow start, but made up for it with two touchdowns in the comeback, which my fantasy team is greatly appreciative of. Two things to take away from this game. Never doubt the Chiefs, and two, regardless of the loss, the Browns mean business this season.
Rams 34 Bears 14
The Rams traded Jared Goff and a boatload of draft capital this off season for Matthew Stafford, and boy game one with Stafford behind center was pretty. Stafford threw for 321 yards and 3 touchdowns leading the rams to week 1 victory, while the Bears kept rookie QB Justin Fields on the bench in favour of Andy Dalton.
Bengals 27 Vikings 24 (OT)
Rookie Wide receiver Ja'Marr Chase can definitely see a ball with no stripes just fine, as he caught 5 passes for 101 yards and a touchdown. QB Joe Burrow looked solid in his return after tearing his ACL and MCL in his rookie season. This game was shockingly exciting, and the Bengals offense looks like it will be fun to watch this season.
Cardinals 38 Titans 13
I, along with a lot of people were shocked to see the Cardinals Dominate the Titans like they did on Sunday. But when your quarterback is Kyler Murray, it shouldn't be as shocking as it was. The former 1st overall pick was the leading fantasy player of the week going 21 for 32, throwing for 289 yards with 4 passing TD's, 2 to Deandre Hopkins, and 2 to Christian Kirk, and running one in himself. Chandler Jones was a beast on defense sacking Titans QB 5 times, equaling the Cardinals franchise record for most sacks in a game. The Cardinals will be an explosive and fun team to watch this season.
Texans 37 Jaguars 21
Well, it wasn't the regular season debut that rookie phenom Trevor Lawrence was hoping for. Lawrence threw for 332 yards and 3 touchdowns, but also threw 3 interceptions. He also overthrew many open receivers and was a victim of several dropped passes. Lawrence also added that it was the first game he had ever thrown 3 interceptions in at any level of football. Which is a stat I am not surprised to hear. Lawrences' dominance in highs school and college football is well documented. The revamped Jags have a lot of work to do, and don't expect much more from the basement dwelling Texans.
Dolphins 17 Patriots 16
The Dolphins were the only team from the AFC East in week 1. They cut it close against the Pats and rookie QB Mac Jones, who was solid in his debut. QB Tua Tagovailoa became the youngest QB to win in Foxborough, going 16 for 27, throwing for 202 yards with one TD pass to rookie receiver Jaylen Waddle, and running one in himself, and also threw one interception. The Dolphin's defense was the biggest story of the day, continuing their ways from last season. When it looked, like Mac Jones was going to lead the Pats on a game winning drive Eric Rowe stripped running back Damien Harris of the ball on the Miami 9-yard line, and star cornerback Xavien Howard recovered the ball. The Dolphins ran the clock down and secured a week 1 victory. It wasn't pretty, but a win is a win. Miami now prepares for their week 2 matchup against division rival Buffalo
Raiders 33 Ravens 27
The Monday night game had a wild finish. The Raiders trailed in the fourth quarter but built a comeback which was complete after QB Derek Carr led the Raiders down the field and capped it off with a game tying 55-yard field goal in the final 37 seconds. OT came next, and chaos ensued. The Raiders threw an opening drive interception, followed by a delay of game penalty on their second drive before a field goal attempt. Raiders defensive end Carl Nassib strip sack of Lamar Jackson got Vegas the ball back, and another chance to win the game. Derek Carr threw a 31-yard touchdown pass to Zay Jones to win the game and end off week 1 in a wild way.
🚨 WALK-OFF TD BY ZAY JONES!🚨

RAIDERS WIN IT IN VEGAS!

(via @NFLBrasil)pic.twitter.com/2oRpWY9hVe

— ESPN (@espn) September 14, 2021
(Twitter/@espn)
Other week 1 final scores:
Eagles 32 Falcons 6
Panthers 19 Jets 14
Chargers 20 Washington Football Team 16
49ers 41 Lions 33
Broncos 27 Giants 13
Saints 38 Packer 3
Seahawks 28 Colts 16 
Steelers 23 Bills 16 
Week 1 has come and gone. There were some fantastic games to kick off a new NFL season, there was also some shocking results. Buckle up football fans, the NFL is back, and it's just getting started.
-Kosta Pappas