There is still a loss in the education of the history of indigenous people in Canada, so it never hurts to learn and remember who they were. Here's of quick short list of the many women who greatly impacted in Canada.
Kenojuak Ashevak (1927-2013)
She was born on the southern coast of Baffin Island and was one of the first Inuit women from Cape Dorset so have memorable artistic abilities. Ashevak used a variety of art forms from graphite, felt tip pens, coloured pencils, watercolour and acrylic. She would also on occasion, used soapstone carvings and stonecutters prints. The perfect love story with her husband also being an artist, on occasion they would work on art together.  She is famous name due to the fact her work has been put out on Canadian stamps and coin and her most famous prints, Enchanted Owl and Rabbit eating Seaweed, have become recognized pieces of art. And by 2001, the was inducted in Canada's Walk of Fame.
Mary Two-Axe Earley (1911-1996)
Born on a Kahnaawake reserve in Quebec, Earley was Mohawk woman. She moved to New York City at 18 and met Edward Earley, an Irish-American who eventually became her husband. Because she married a non-indigenous man, she later lost her First Nations status and could no longer be welcomed back to the reserve. Of course, she would not stand for this and began to advocate for the rights of indigenous women and for changes to be made to the Indians act. By 1968 she established the Equal rights for Indian woman association. This was nowhere near easy for her to achieve, she received lots of push back mostly from men in the community due to the fact they felt as though their culture would erode. Though the hardships she faced with the death of husband by 1985, the parliament passed Bill C-31. This bill amended the Indian act and removed discriminatory measures.
Angela Sidney (1902-1991)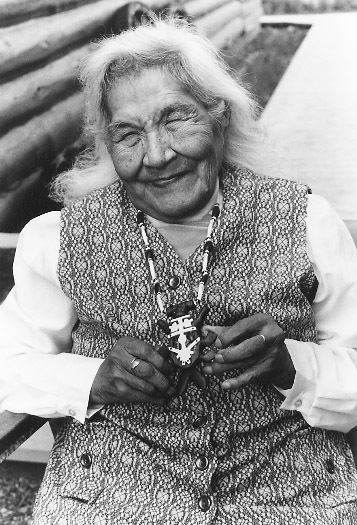 A Tagish woman that spent most of her life, preserving the stories of her people. Ever since from a young age, she enjoyed hearing the old stories that were told by her parents and other relatives, to ensure that Tagish dances, stories and language did not die. Sidney would assist linguists and anthropologists with research to keep the culture alive. In 1986, she became the first woman from the Yukon to receive Order of Canada for the important work that she did.
Mikak (1740-1795)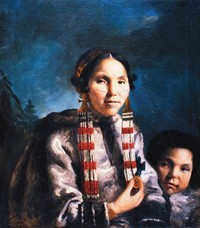 Born all the way from Labrador, she played an important role in the creation of friendly relations between European traders and Inuit people. It is believed to be, she was the first Inuk that had travelled to Europe and back to North America, this is significant because most who went to Europe died from small pox before returning. Mikak is also one of the earliest mentioned Inuits in historical documents. Taken as a prisoner but an English Naval officer, Francis Lucas and was later brought to London. Meeting with many she impressed them, and won over several people and thus learned some English.
Nora Bernard (1935-2007)
A Mi'kmap activist who fought heavily for the compensation of residential school survivors. When she was a child, Bernard spent five years at the Shubenacadie Indian Residential school. Those five suffering years she spent drove her to bring lawsuit against the government for the mistreatment and trauma she experienced. While in school, Bernard defended her siblings and many other siblings when she saw them being mistreated. And by 1995, Bernard founded an organization that represented survivors of Shubenacadie, their class action lawsuit would soon be known by the world. Unfortunately she did not get to see all her hardwood when she was killed in 2007 by her grandson.
Jean Cuthand Goodwill (1928-1997)
A Cree woman from the Little Pine First Nation. Goodwill was the first indigenous person in Saskatchewan, and one of the first in Canada to become a registered nurse.  When she was a child she contracted tuberculosis and because of that she spent a lot of time in and out of hospitals and being around them. This all influenced her in the direction to choose being a nurse as her career. In the earlier days of career, she worked in the rural Saskatchewan and also Bermuda, focusing on helping people in need. Goodwill's biggest interest was in the political and community issues after when she returned to Canada. Goodwill was one of those who helped found the Aboriginal Nurses Association of Canada and served as its presidents from 1983 – 1990. She was the first Indigenous women to serve as a special advisor to the minister of National Health and Welfare in the federal government. She also worked with the Department of Indian Affairs and Northern Development. Among being a nurse, she also taught at the University of Regina and was a Canadian Public Health association board member and served a term as President of the Canadian Society Circumpolar Health.