I feel as though growing up in Vancouver in all 21 years of  my life and gone thru the angsty moments, I know of those cool places around van and.n fun spirit I will be rating the places I have been to.
You're probably safe from Covid If you ate here
No hate first off, loved the place also love the guy because the owner is a super chill dude with tattoos BUT, only the brave ate here. Bon's off Broadway is probably one of East Van's most notable places, especially as a restaurant. Listen, I am not hating on a quick $3 breakfast but, why was my ketchup watery? If you have ever been inside, you have seen the walls that are covered in tagging and graffiti and it's kind of cool, looks a bit dirty, but still super cool and also just make the place feel cozier. In all it's a nice place, the only thing terrifying about it, are the washrooms. I feel like if you took one of those black-lights in them, it would be just horrendous. I still can't quite remember how bad the washrooms were because I probably repressed the memory. Overall, you gotta love the feel that this place gives East Van, so I am going to give it a 7/10, due to my ketchup tasting like water.
How much could I drink to forget it here?
Vancouver is not famous for its clubs, matter of fact I think the only one people ever mention is No.5 Orange, because of the strippers and I think one of Vancouver's sports teams frequented the place quite often I hear. When you turn 19 in Vancouver it is a bit melodramatic, unless you have the funds to make it worth even more. From most of the people in my bubble and what i've seen, when you turn 19, you get blackout drunk at Fortune, so you can forget how bad it really is there. Fortune is like if you gave a prom dance liquor and bag hygiene, just mediocre djing and dancing. Of course, fortunately for my 19th I never actually made it inside the building, but I did attend again, this time sober, so I remember everything quite well, sadly. First off if you have a TFSA account and are not under the age of 25 you might wanna go to Celebrities on Davie st instead, it is a bit cleaner. Fortune isn't horrible alright, but, when you have only 1 floor and that many people on said floor, ya it kind of makes you want to fall through the floor, to freedom. While I am shitting on it, it isn't the worst, the drinks are pretty okay and the music on a good day, is not the worst thing ever, if the Dj is sober and coherent. So based off of its rep and experience going to give it a 4/10, because Celebrities is a lot better.
You might hear some yelling or ya might hear some singing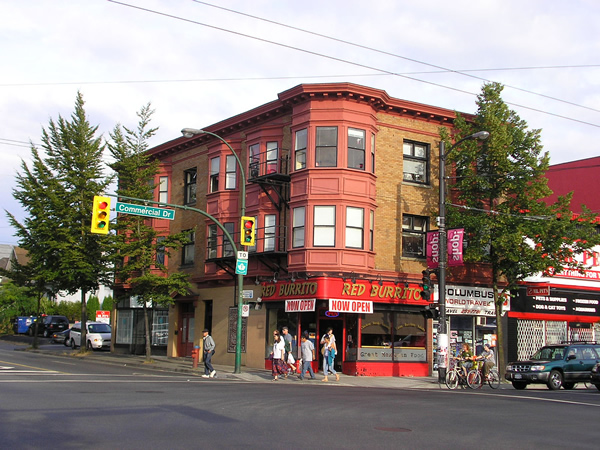 Ah yes Commercial drive, otherwise known as, The Drive, it is the city's core to mayhem and love. Just like when you're opening a present from someone close to you, you never know what the hell you're going to get. I think in all of Vancouver it is one of my favourite communities because just like New York, it never sleeps. The drive has lots of great restaurants to eat at as well as small local grocery stores you can support, and on top of all of that, it is probably the area with the most talkative people. I feel like if you're ever feeling sad or lonely I'm sure you can find a stranger who would chat you up and maybe clear your mind, even for just the moment. Commercial drive is also such a welcoming community and inclusive to anybody who needs it. So, because of its warm hospitality to strangers minding their business on a simple Tuesday, I am going to give it 9/10 only because if you're walking along the driver after dark, it is a little unsettling at times.
Whose park was this? Stanley's?
Out of all the beautiful things Vancouver has to offer, Stanley park is without a doubt on that list. Not to flex but, does Toronto have a park in the heart of downtown surrounded by water? No? exactly. Infamously known for its seawall you can skate, bike or walk to your heart's desire, as long as you got the stamina for it. The park is home to the Vancouver aquarium and recognised for its holiday themed train activities for Christmas and Halloween. My favourite thing about the park, is the beautiful night drives you can take along the sea wall. Driving down looking at the night sky and seeing the lights reflect off of the water, is such a pretty sight to me. So because of how much I love the drive, 10/10 no doubt.
So, which is your favourite Vancouver destination, was it on the list? It is always funny to hear people talk about local areas because, everyone almost has an experience in which now defined the area in a way for them, forever. And if you haven't gone to any, make sure you check out Bon's at least, you will never forget it.