With COVID 19 beginning to finally solidify itself as a global pandemic it is interesting to see the reaction the world is having to these unprecedented circumstances. Different parts of the world are experiencing different severity levels of lockdown, but almost everyone is trying to practice social distancing. We are all going to be sick of that term by the end of all this. While some are taking all the precautions needed to keep themselves and others safe, some are not doing quite the same.
Here are the people of Vancouver, engaging in social distancing on Kitsilano Beach yesterday afternoon, after mayor said he would declare a state of emergency. Read all about it. And seriously Vancouver. Get with the fricking program.

— Ian Young (@ianjamesyoung70) March 19, 202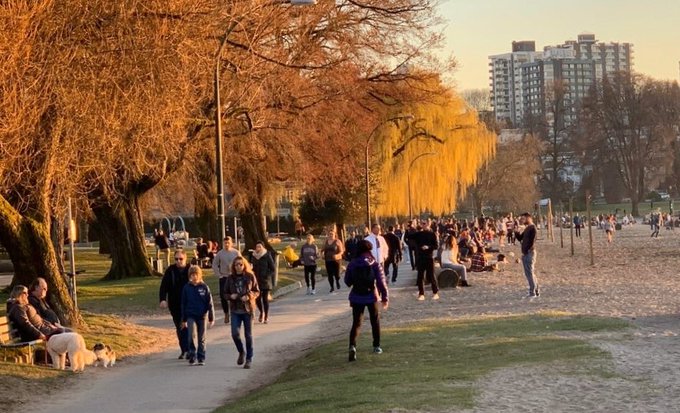 As Canadians we don't usually feel the effects of the controversies and misfortunes that often plague the world. With this newest pandemic it seems Canada is not watching from the sidelines this time, as we have experienced many cases. Yet here we are, frolicking about on the beach like it's no big deal. It's been 100 years since our last pandemic… It's a big deal. We are Canadians, we like to be optimistic and carefree I get it, it's one of the many reasons I love living here. However, it is definitely not a good idea to be near people right now with such a highly infectious virus in our midst with already almost 400 cases reported just in BC. For the first time in my life I see Vancouver setting a bad example instead of leading the world in a positive direction. Stay safe Vancouver we really need to get a grip and start doing better.
While the cases keep growing in Canada which brings a lot of fear and anxiety to the population we certainly do not have it as bad some parts of the world such as Italy and China
Breaking: Italy just announced 23 doctors have passed away in the last 24 hours due to the #coronavirus.

Thank you to these heroes, that died saving lives & thank you to all doctors & nurses globally endlessly fighting this virus to save lives. #covid19italy #COVID19italia

— Coronavirus Global Updates (@trackingcorona) March 23, 2020
Italy has the largest senior population in Europe and this virus is especially deadly to the elderly as they sometimes have pre-existing medical difficulties that make it hard to recover from the virus. Most of Italy is on complete lockdown which is just heartbreaking, but it's always nice to see the videos of people having fun from their homes. Hard to think that it's a possibility that a lockdown similar to this could happen in Canada as well, hopefully, we can make the best of it like the people of Italy are doing.
For China it seems that some areas are getting better, after all it is where the virus had initially begun. Recent news has reported that China has closed down its last coronavirus hospital due to a lack of new cases. Hopefully that means that the virus will begin to die down as the weeks and months go on here in Canada (but you can never be sure so stay cautious). It seems like the recipe for success right now is a perfect mix of optimism with a side of caution. China has been through so much, with the massive protests demonstrations, followed soon after by COVID 19 outbreak, it's hard to imagine some of the hardships people are facing over there. The United States seems to also be on high alert as just the other day the Governor of California issued a warning for all California residents to remain inside unless absolutely necessary.
We all have a responsibility to stay home and practice social distancing in order further prevent the spread of #COVID19 and protect our vulnerable populations. #StayHomeSaveLives pic.twitter.com/Aft4DeJgQb

— Office of the Governor of California (@CAgovernor) March 24, 2020
Same warnings are in place for many other states, good job America.
For Canada it's hard to say what the coming weeks and months will bring us, but we have to stay calm. Don't go hoarding supplies from grocery stores making it harder to acquire for people who really need it, it's OK to stock up because you don't know what could happen but just try not to go overboard like some people.
It kind of feels like the apocalypse when seeing some of the things people are doing out there. It's important to remember that we are all in this together and selfish actions will get us nowhere. Times like these can stir up a lot of politics and division between us and I know that we as Canadians value each other more than most other populations. That is where we are going to get our strength and compassion to help one and another so that we all can look back on these hard times and see the amazing things that the human race can do. We have been battling nature, disease and even each other for so long, we always find a way to keep going. Sometimes we break ourselves down, but we always manage to pick ourselves back up again.
Ending on a brighter note, it's nice to see far fewer cars on the road, boats in the sea. Mother Earth is finally getting some time to heal. The economy may be in a bit of trouble, but I think the world really needs a break from the constant abuse we put on it. Maybe after all this is over we can see that we don't need all this overproduction. We can just dial back a bit so we can make sure the amazing thing called the Human Race sticks around for as long as possible.