It seems crazy that Breaking Bad ended almost seven years ago. One of the most critically acclaimed shows and a herald of the so-called Golden Age of Television, it's a show that still has maintained a huge cultural footprint long after it's well received finale. But the show's off beat version of Albuquerque still lives on in the form of it's spin-off Better Call Saul, a show that against all odds has someone become equal or even greater than it's predecessor.
Better Call Saul is both a prequel AND a sequel to Breaking Bad. The show's season premieres have each opened up with cold opens where Saul Goodman, lawyer to Breaking Bad's anti-hero, Walter White, has fled Albuquerque and become Gene, manager of a Cinnabon. It's a far cry from his status as a wealthy attorney to a meth king pin. Following that the show settles into a prequel set in the early 2000s where Saul Goodman is revealed to be in fact a down on his luck lawyer named Jimmy McGill, who lives in the shadow of his older and far more respectable brother, Charles. The series explores how the shifty but ultimately good natured Jimmy becomes the scumbag that appears in Breaking Bad.
The show also has appearances from other Breaking Bad characters like Mike Ehrmantraut, who at the beginning of the series is just a parking attendant but quickly reveals his darker nature, which makes sense given that he's a drug enforcer by Breaking Bad's start. Season 3 features the return (or debut I guess) of Breaking Bad's greatest villain, Gus Fring. Numerous other characters from Breaking Bad, from recurring cast members to one scene players appear as well, making Breaking Bad's world feel almost as vast as something like the MCU.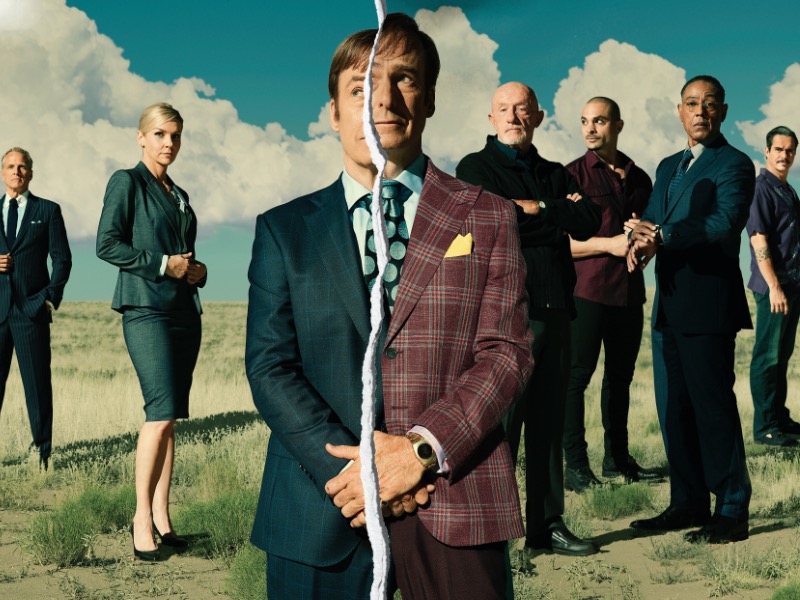 Better Call Saul  is a show that could have easily coasted on these returning faces but instead manages to deepen every single character in new and interesting ways. Saul Goodman, a character who was effectively the comic relief has become even more tragic than Walter White. He's a good person who slips up, but due to other people's pre-conceived notions of him, he finds the only thing he can do is embrace the perception that they have him. Every time he tries to do things the right and proper way he is shut down, losing his humanity piece by piece. Fans of his grifts on Breaking Bad now wince as he makes the worst possible choices that thanks to the nature of being a prequel, we know will lead to his ruin.
Better Call Saul is currently airing it's fifth season on AMC. It airs on Mondays at 10PM. The first four seasons are also on Netflix. Don't miss out on one of TV's best shows.