Thousands of fans have crowded the streets at The Forks, Winnipeg to celebrate the CFL team's championship win. Blue Bombers players and fans partied with joy in downtown Winnipeg shouting, "Who's go the cup? We've got the Cup!" as they paraded down the streets.
Many Bombers players rode on a float with a mini football field and a massive helmet near the front. Screaming fans surrounded them as they paraded through the Portage, the Main intersection, and then onwards to The Forks. You could hear the players yelling, "The drought is over and the Cup is here!", "The Cup is here, let's go!"
Lucky Whitehead, Bombers' wide receiver wore no shirt in the cold, -1 C degrees weather, while holding the Cup. Whitehead thanked all the fans who waited for 29 years and said, "I feel great man. It's amazing to be out here with my teammates and this city. It was all worth it."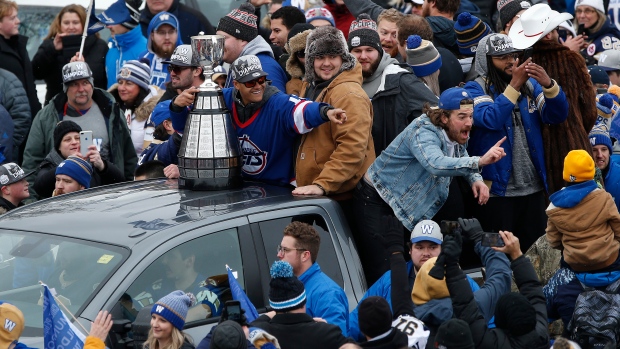 As the parade went, thousands of fans held signs and flags and wore jerseys as the float passed by. The hero who won the goal, Andrew Harris yelled out "I've got your back" to the crowds. Fans responded back "We've got your back" as the rest of the teammates chanted "MVP! MVP! MVP!" Harris surrounded by his family said,  "It's a dream come true." He also visited Winnipeg's Oak Park High School.
Bombers president, CEO Wade Miller said, "Winning the championship is great for the players, the city, and the fans. All of Winnipeg is here." Winnipeggers were dedicated to wait and stand in the freezing cold temperatures. But for them, the wait was totally worth it. Players joined and danced to the music with the fans, cheering each other back and forth. The team's mascots Buzz and Boomer, drum band, and cheer team were also present in the parade. Superfan Dancing Gabe also made an appearance.
"We did this for you Winnipeg! Thank you, Winnipeg!" yelled the players.