Warning: This Contains Plot Spoilers for Avengers: Endgame

Peter Parker has been through a lot in the last few years. After being recruited by Iron Man he fought against Steve Roger's faction of the Avengers at an airport in Germany. Afterwards he returned to school only to discover that his crush's dad was none other than the supervillian Vulture. If that's not enough, a battle against an intergalactic threat in New York lead him into outer space, face to face in fight against The Mad Titan, Thanos. Parker was then snapped out of existence by Thanos, and spent the next five years as a pile of ash. Finally, shortly after being un-dusted by the Hulk in Avengers: Endgame Parker witnessed the tragic death of his mentor Tony Stark. That's a lot for a teenager to go through, and it's safe to say that Parker feels a greater responsibility, as shown in the trailer for the upcoming Spider-Man: Far From Home.
"Everywhere I go, I see his face… I just really miss him." Says Parker, grieving over the loss of his role model.
The loss ways heavy on him in the latest trailer for the film. The dire straits Parker is left in carries over onto the newest poster for the sequel. Released today on the official Spider-Man Twitter account, the poster finds Peter Parker in his Iron Man-esque Spidey suit, calmly arched on a rooftop with a mural of his fallen mentor behind him.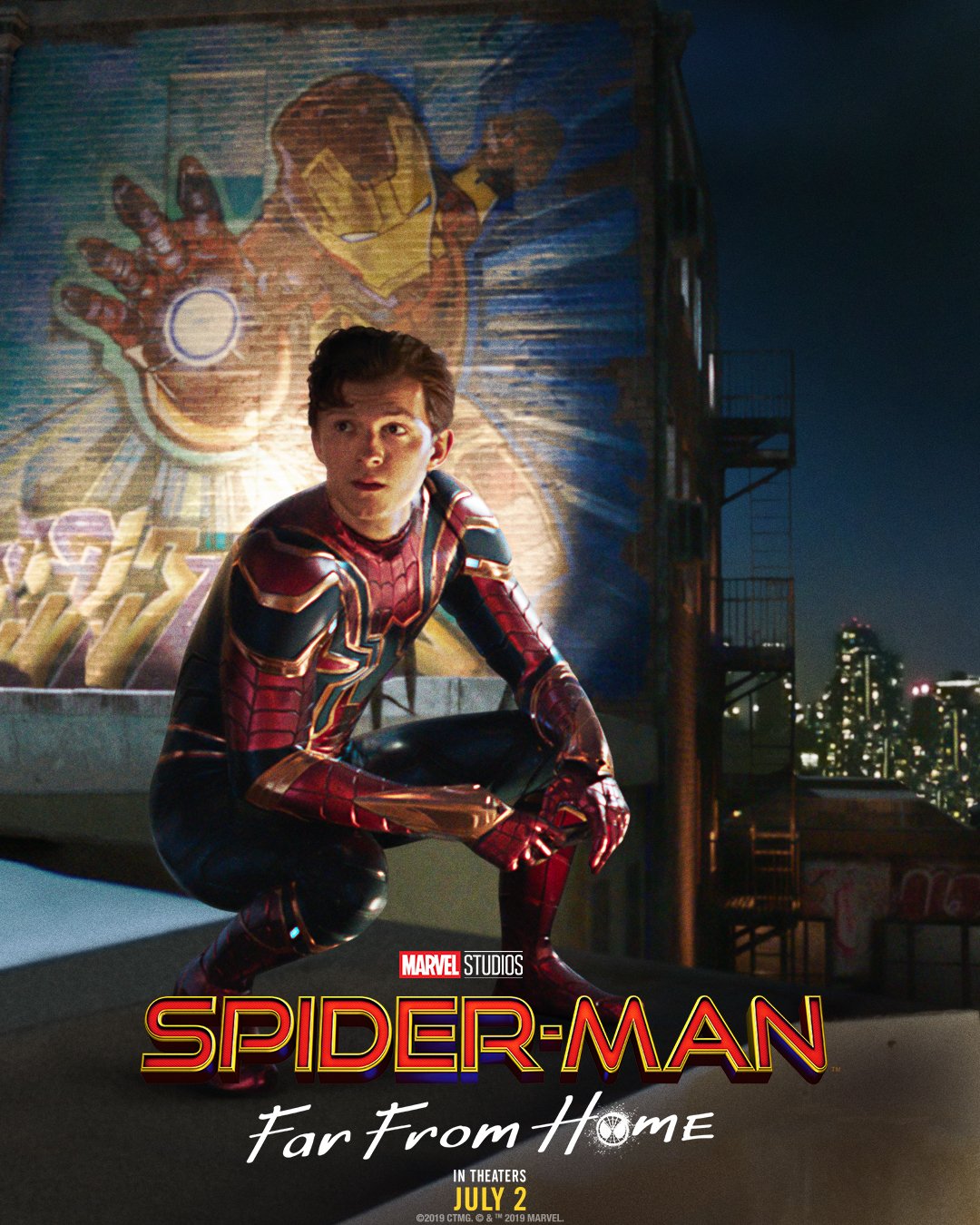 There's a lot for Peter to handle in the upcoming film, dealing with emotions, concerns of "being the next Iron Man", and not to mention teaming up with the Nick Fury and the mystifying Mysterio to battle the Elementals. The film finds Spidey out of his element, as he leaves Queens for a much needed Vacation before his jaunt around Europe his knocked out of synch when these Elemental creatures begin popping up and attacking cities. With the Avengers scattered it's up to Spider-Man to sort it all out.
Spider-Man: Far From Home opens in theatres on July 2nd.