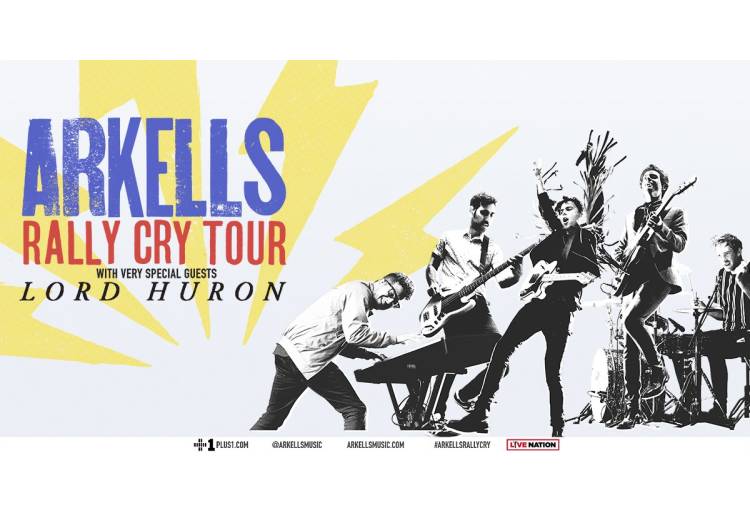 TL/DR; Oh boy, did you miss a concert.
It's Saturday night. A good 15,000 people were crowding into Pacific Coliseum, come 6:30. People were crowding around the merch desk, looking to grab a t-shirt, others were loading up on overpriced beer. But when concert openers, Lord Huron, took the stage – it all came to a standstill.
I will fully admit, I didn't research them too much before the gig. I figured I knew that one song from 13 Reasons Why (The Night We Met), it'd all be the same sorta vibe, why bother? I was flat out wrong. I was expecting some twinkling, Passenger-y guitar and a banjo thrown in there somewhere. Nope. Lord Huron exploded on that stage.
They had it all, crashing guitars, energetic beats, and a freaking Theremin. Every expectation that they would be a folksy, low-key band was right out the window within 8 beats. If A Star is Born was real and Bradley Cooper got clean and sober, he would probably be a member of Lord Huron. When it did get around to The Night We Met, far and away the most gentle song on the set list, it was absolutely gorgeous. I felt like I was at a prom I never got to go to in high school.  I will say, and this is absolutely a personal preference, they were a tad bit too country for me. But in terms of warming up a crowd, it's safe to say we were toasty. They even played for an entire hour, a respectable chunk of time for an opener. Based on that one performance, if you're looking to check out a new band, you're going to want to listen to Ancient Names, Fool for Love, and (obviously) The Night We Met.
30 minutes of switching around the stage, I played wood puzzle on my phone, a lot of people went to go drink beer. Saturday Night, after all. The band came out, all dressed vaguely like they were officiating a shotgun wedding in Vegas but they absolutely pulled it off. The Arkells kicked off their performance with Relentless. It was high energy, punchy, and prefaced pretty much the entirety of the show. Oh my God. It was like watching the Duracell bunny. Or if someone just let a box of puppies lose on stage. It was chaos. The good kind. I mean, they had a whole damn brass section.
Have you ever been to a concert where you can tell you're just another crowd, another stage, another night? That wasn't the case for the Arkells. You could tell from every second they were on stage, they appreciated Vancouver and the journey they took to get there. They paid special tribute to the venues they've played over the course of their career, The Biltmore Cabaret and The Commodore, in particular. They were a band that looked like they genuinely enjoyed what they were doing.
The Arkells have three rules at their shows; sing, dance, and be kind to one another. That positivity was apparent in each song. At one point, lead singer, Max Kerman, entered into the crowd to hand out 'doctors notes' to crowd member that worked the next day. One actually ended up with Alexis, an Evolution alumni. The note read:
"To Whom It May Concern,

Arkells put on such an incredible show last night, that every attendee needs 24-48 hours of recovery time. Please excuse from work.

Dr. Arkells."
To clarify, it didn't work.
Do you remember rule two? Dance. Oh, there was some dancing. I have to say it was very Jack Black circa School of Rock meets drunk dad at a BBQ but it totally worked. Everyone was feeding off each other's energy so even the dorkiest of dance moves were allowed.  I will say, if you've known me for me than five minutes, you'd know that I hate arena shows. If every band I love could play to a room with a 100-person capacity, I would be a happy camper. Yet, Arkells made Pacific Coliseum feel as intimate as the Biltmore with enough energy to fill up BC Place.
I tried noting down the tracks that I felt stood out but I accidentally wrote half the set list. People's Champ was a banger, Saturday Night was John Hughes-level magic, and 11:11 featured a mashup of 'Shallow' from A Star Is Born. A standout moment was the Rally Cry request line. Each night, they have an open spot on the set list. Fans were asked to request a particular song that they loved that may not have made the set list otherwise. They even play the recording of the phone call. It added a personal touch that many other acts don't offer. Vancouver's track was Agent Zero, a track they hadn't played live in over three years.
The one thing I did learn is that it is physically impossible to leave an Arkells show in a bad mood. Call me a convert, I'm part of the cult. If you get a chance to get to a show, go. Hell, why aren't you there right now? Musically, it was all there. Performance was absolutely stellar, and the crowd (Vancouver being infamous for being lukewarm, at best) were lapping it up. Finishing off their set with a cover of ABBA's 'Dancing Queen', one thing I noted was the crowd. It was frat boys doing an interpretation of a waltz, middle aged mom getting down, albeit off beat. There wasn't an overwhelming demographic. The crowd didn't have a particular age, or gender, or race. It was just people. Loving music. Together. And isn't that what every good concert is about?