Guess who's back. Back again (and no, it's not Eminem).
After a three year hiatus, the band Hey Ocean! is back together and attacking the local Canadian music scene. In fact, you can catch the trio hit the stage of the Vogue Theatre this Saturday in their hometown, something they haven't done since playing at the PNE in 2014 before their hiatus. But let's not get ahead of ourselves, shall we?
The band hit it strong with their start in 2004, created by Ashleigh Ball, David Beckingham, and David Vertesi, known for their sound of indie electro pop/rock sound. And with having 10 plus years under their belt, you bet they have a library to back it up. The group has four albums to their name (well, five if you include the re-release of a remastered version of their sophomore album for its 10th anniversary), as well as four EP's.
Perhaps their biggest hit was in 2012 with the release of their third album, titled "IS." It's their first, as well as their only album to appear on the Canadian album charts. Plus, their song "Big Blue Wave" also appeared on the Canadian Hot 100 and the Canadian Rock / Alternative chart. Other songs also got attention on the small screen, being used in "One Tree Hill," "Switched at Birth," and even for a HootSuite commercial. They also got a Juno nomination from that album, being nominated at the 2013 awards for "Breakthrough Group of the Year." But as a consolation prize, they were voted "Best Local Band (Unsigned)" by readers of The Georgia Straight.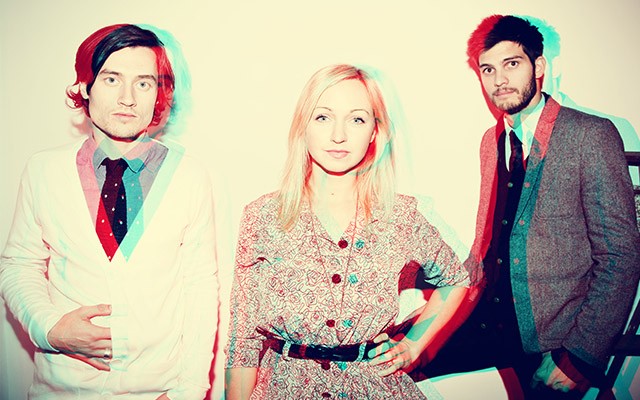 Then after that success, the band went on a brief hiatus to work on solo projects. Most notably for Ball who focussed more into her voice over work she's been doing since 2005. Little bit of trivia for ya, Ball does voice over work for the My Little Pony franchise, as she has provided the voice of many of the characters from the show.
It was a tough call for them to take a break. In an interview with YYScene, Ball says that the band was losing passion when it came to creating new music, and in the end, a break is what they needed to move forward as a group.
"It was definitely a hard decision with lots of emotion, lots of tears on my part, but in the end it was the right decision for all of us to take a step back from the thing that we were focussing the most on in our lives… Overall, it's what we needed to do to make the band stay alive in the long run."
And that break is exactly what they needed, as the trio came back strong in 2017. There fourth album, "The Hurt of Happiness," was released in April of 2018, and with a sound better than ever. Overall, the album was more emotional and personal, but still staying true to the fun sound Hey Ocean! is known for. For their latest, they just recently released a music video for their bop (and my personal favourite song), "Mama Said," and showcasing the city of Vancouver on a rainy night (aka, typical Vancouver).
If you need a quick jumpstart, here are some of our favourites so you can add them to your playlist, including…
Mama Said – The Hurt of Happiness

Sleepwalker – The Hurt of Happiness

Big Blue Wave – IS

Make a New Dance Up – IS

I Am A Heart – IS

Alleyways – It's Easier To Be Somebody Else
For more goodies, make sure to check out their website and follow their social media pages including FaceBook, Twitter and Instagram. And don't forget to check them out yourself as they return home to play a show at the Vogue Theatre on Saturday.
That was your Music Profile 101, and know you've been schooled. Class dismiss